Is your pool looking dated and in need of a makeover? Pool and landscaping expert John Storch shares his favourite cost-effective garden and pool renovation tips.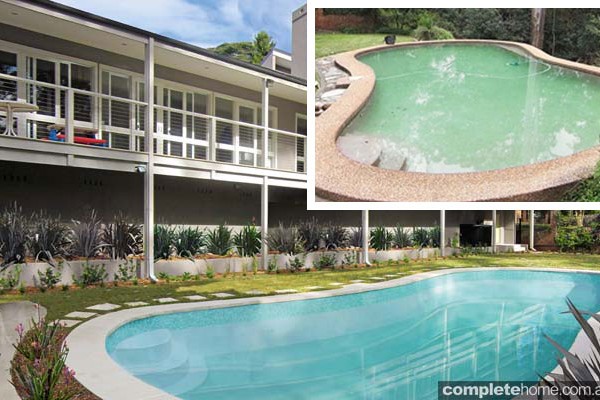 Changing the colour of the pool interior is the most cost-effective way to lift visually the pool and garden.
Renovations don't have to mean changing pool shapes and paved areas (but they can). Often, a pool renovation will be a superficial one, changing finishes such as renewal of lawn and plants, tiling, paving, fencing and resurfacing of walls to the pool and surrounds to bring a tired old project up to scratch. This is a much cheaper option than a rebuild if all the pool hardscape components such as external kitchenettes, walls and paved areas are all in the correct configuration and work functionally. Changing the superficial elements will often provide best value for the dollar and best return for resale.
The popular pool renovations below help to enhance and revitalise an outdoor space:
1. Pool interiors
One of the most cost-effective and dramatic changes for a budget pool renovation is to install new waterline tiles and resurface the pool. Changing the colour of the pool has a huge effect on the entire outdoor space.
If the current finish requires a lot of maintenance or is looking worse for wear, then changing the product or colour can uplift a pool to look as new and minimises the time needed to maintain it. Examples of these options include glass and ceramic tiles, Quartzon, glass and natural pebble finishes, paint and vinyl liners.
If you'd like to rejuvenate and uplift your external space cost effectively, changing your pool from a dull colour to a bright lively blue or aqua can instantly invigorate your garden.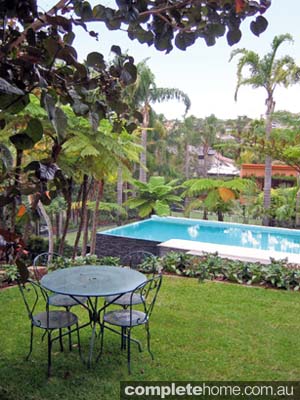 Change the lawns and plants – this is a cost-effective way to transform a pool area.
2. Planting
Neglected gardens look messy and, over time, even the best-maintained gardens change with the inclusions of the unwanted Christmas tree and Grandma's Hydrangea gift, so reviewing and improving planting design will have a dramatic effect. One of the simplest ways to improve an old garden is to incorporate a consistent hedge or border using one species and one colour. Immediately, this will unify and integrate the garden to create an appealing symmetry.
Purchase tropical plants to liven up the area. Large and border plants such as agapanthus can be purchased bare-rooted and full grown, cheaply for an instant effect. Install new plants to uplift an area. This is usually extremely cost-efficient. Particularly when planted small and you are prepared to wait.
Consider renewing the lawn for a cost-effective uplift. Spray and strip the old weed-infested grass and install a new Sir Walter Raleigh Buffalo lawn. This will lift the space and you'll actually want to use the lawn.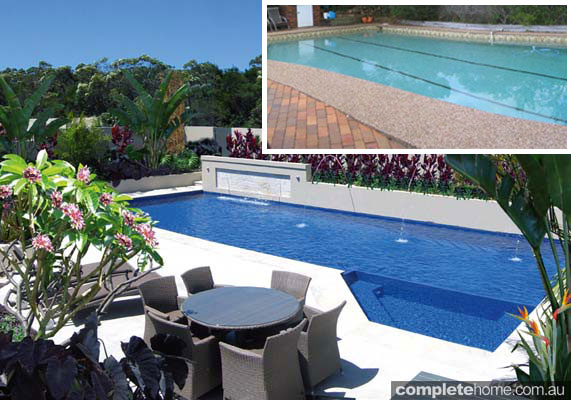 Repaving around a pool and changing the pool interior using contemporary products can transform a pool from a frog to a prince and add immeasurable resale value to a property.
3. Surface treatment
A space that has been added to over the years is generally comprised of several different types of surfaces. Overall, the result of this is an unattractive and disjointed look. Alternatively, the hard surface area may simply incorporate a worn or dated material. Using the same material such as paving, timber and faux timber and a modern-sized and coloured unit throughout makes a big difference and unifies the project.
The current trend in paving is using either large-unit natural stone including basalt, travertine, sandstone and granite or contemporary-looking man-made products. All of these styles are perfect for indoor and outdoor entertaining areas. The colours for the season are grey, blonde and brown shades, combined with the chic large-format pieces 600 x 600mm or larger.
Timber creates a hard surface with a soft look. In many pool renovation projects, using a combination of paving and timber will minimise the visual amount of one material to avoid an 'airport runway' look. Timber is often a more cost-effective way to create these areas than paving, especially if the entertaining area is elevated. Timber creates classical synergy and fusion if used throughout both the external and internal areas.
Faux timber, made from timbers and resin and many other mixtures, has the benefits and look of natural timber but will not need maintenance and painting and won't deteriorate over time. As a result, it looks great on contemporary projects.
4. Walls
Privacy walls and retaining walls can become dated and often walls that are still structurally sound may have cracked surfaces. This creates an unattractive product.
Use a modern pigmented render to re-render a wall, or give it a coat of paint. This is often a very cost-effective way to lift an area.
Old timber sleeper walls with a splash of pigmented stain often have an instant modernising effect. Bring old-style masonry walls up-to-date with some of the modern stone claddings. Many stone products even come in ready-made panels up to 1000 x 1000mm. This allows for easy and quick coverage of a wall.
Horizontal timber cladding over an old privacy wall creates a contemporary soft look. In many pool renovation projects, using a combination of stone cladding and timber breaks up and softens large expanses of walling where it may not be practical to use plants.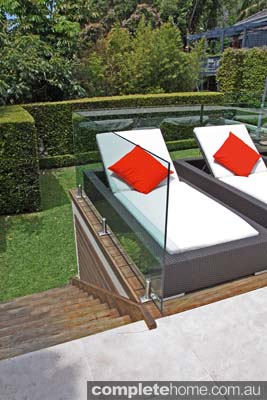 Replacing old furniture or soft furnishings is a very individual and pleasing way to lift a garden. Replacing old pool fencing with frameless glass ensures a beautiful view.
5. Furniture & accessories
Outdoor furniture is one of the more functional and important item selections for renovating any outdoor area and also helps organise the space. In particular, accessory selection is one of the more personal aspects to aid in customising an outdoor or pool renovation project.
Furniture style can range from one-off bespoke built-in daybeds, to elaborate and expensive conversation pieces, to cheap-and-cheerful seating arrangements.
Outdoor accessories incorporate soft furnishings including outdoor bean bags, cushions and throw rugs and, together with feature homewares such as scented candles, sculpture and art, individualises an outdoor space. They can range from mass-produced items to one-off pieces tailored to your own project. These are becoming increasingly important to complete the outdoor space.
6. New fencing
Pool fencing legal requirements are continually being updated. This often means that to comply with current rules, a new pool fence is required in a totally new location. This may lead to a total refurbishment of the entire external space to make the fence work. New pool fencing often has aesthetic benefits over old fencing. Frameless glass fencing has come down substantially in cost – and it gives a great view of the pool. It can also enhance safety for children using the pool.
In some situations, a fence may no longer be needed such as between a pool and adjacent area where a pool may be elevated 1200mm higher than the nearby area, creating a non-climbable barrier between the two uses.
John Storch is the principal landscape architect of A Total Concept Landscape Architects & Pool Designers. Find out more about A Total Concept here.
By John Storch
From Renovate magazine Vol. 9 No. 3