Get the designer look at a fraction of the price with budget renovation advice from expert Cherie Barber.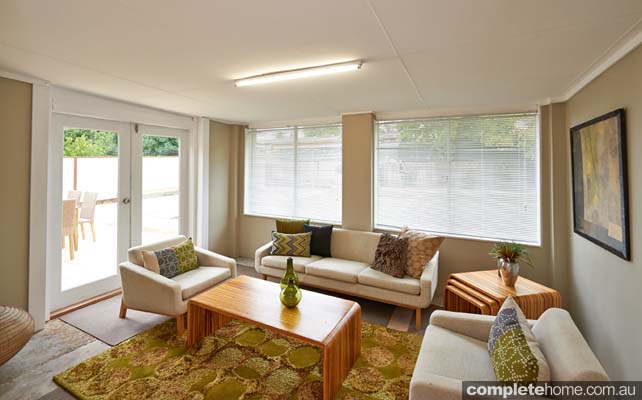 Living room renovated by Cherie Barber
Walk into one of those flash bathroom showrooms and it's easy to walk out several thousand dollars poorer. Designer baths, Italian fittings, sleek basins… they can cost a bomb. But what if I told you that you could get the same look for a fraction of the price? Frugal renovators will always find the budget shortcuts that don't compromise the final look. Bargain hunting becomes second nature, even addictive. It takes a bit of legwork — and the occasional bit of detective work — but you'll be amazed at how far you can stretch a tight budget with just a few of these tricks.
1. Getting the look
It's a matter of finding the look you're after, then scouring shops and online to locate it. If you're in a store and see something that's perfect, bar the price tag, ask if they have something of a similar look that's in your budget. It may not be on display, but tucked away in a catalogue somewhere or sitting under a pile of dust out the back.
2. Trawl the bargains online
How did we ever renovate pre-internet? It's not only the greatest research tool in your kit, but also an Aladdin's cave of bargains. Sites such as eBay, Gumtree (a community-based site with classified ads), the online Trading Post and Freecycle (recycling of stuff in your local area) are an amazing source of goodies. Unwanted goods; hasty purchases that didn't pan out for the renovation; mismeasured benchtops, windows and doors; excess tiles and freshly gutted kitchens… they invariably end up online somewhere and you can pick them up for a pittance. Auction sites such as GraysOnline should always be on your radar. I often pick up brand new items, still in their box, for about a third of their retail price, by keeping a constant eye open for bargains. On a large renovation, we're talking thousands of dollars saved.
3. Retain, recycle, re-use
Surprise, surprise, you're not the only bargain hunter on the block. One man's junk can be another man's treasure, so never discard anything that might be worth advertising for sale. You'll not only get revenue in, but save on skip and tipping fees, and even labour costs. I sold a whole roof of tiles for 80 cents each and they came and removed them as part of the deal: $3225 straight back in my pocket. Look at what you can recycle onsite. A tree that has to go from the front yard might be perfect for the back. And think carefully about what you can keep and rework. A kitchen that looks dated and drab may actually be in great condition. All you need to do is laminate paint or change the doors and rethink the tiles and benchtops. And come tax time, make sure you've kept a meticulous "scrapping schedule". The old carpets, blinds and seventies stove you've tossed out could all be legitimate tax deductions.
4. Avoid the demons of DIY
Never assume doing a job yourself is cheaper than calling in the pros. Tradies will jokingly tell you that Monday is the busiest day of the week. It's when the calls trickle from gung-ho DIYers who have botched the weekend kitchen installation or created a bathroom disaster. Learning on the job doesn't make great sense when you're the one paying for the expensive mistakes. Renovating old properties can open up a can of worms and it's best to have an experienced tradie on site when unforeseen problems come up. And they always do. You also generally won't have access to the trade discounts that the pros get, which can be up to 10-20 per cent off retail. Buying in bulk gives them tremendous buying power. And you may have to outlay for tools or equipment hire, which quickly negate any savings on labour. Project managing a renovation can be a far better investment of your time and money.
Remember, cheap doesn't have to mean poor quality. It just shows you're clever about finding the very best deal at every stage of the renovation. All those modest savings add up, and whether you're renovating for yourself or to sell for a profit, surely the money is better in your pocket than someone else's?
Cherie Barber is the director of Renovating For Profit, a company dedicated to training everyday Australians how to successfully renovate for a profit. renovatingforprofit.com.au
By Cherie Barber
From Renovate magazine Vol. 9 No. 3