An Australian grazier and his Hollywood starlet wife transformed a staid 19th century homestead into a 1930s-Moderne home and entertainment venue for everyone they knew, from the cream of Victorian high society to the local community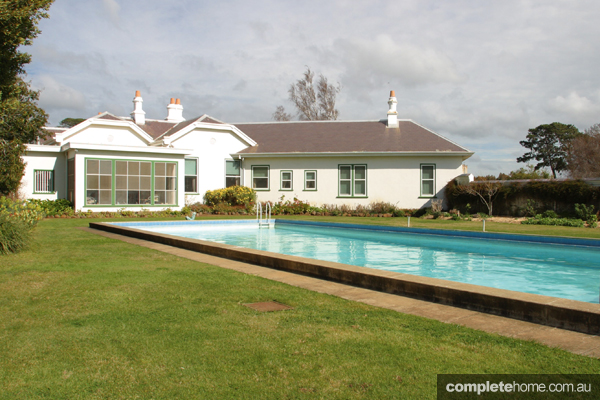 The story of Mooramong, in Skipton, Victoria, is one of privilege and glamour — Hollywood glamour, no less, something you perhaps wouldn't have expected to find among the wealthy squattocracy of Victoria's Western District in the 1930s.
Not many young men are given a 4500ha sheep property, complete with an elegant homestead, as a 21st-birthday birthday present, but at least Donald John Scobie Mackinnon (known to his friends as simply Scobie) used his generous endowment well, becoming quite the conscientious and successful grazier. In fact, he worked hard and innovated to achieve record wool clips.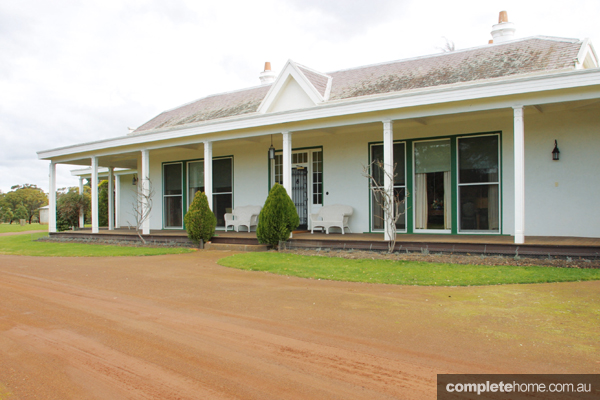 A gift from Scobie's father, Lauchlan Kenneth Scobie Mackinnon, a solicitor and racing identity, the property had originally been part of a 15,000ha squatting run owned by a trio that included pioneer pastoralist Alexander Anderson jnr, one of the earliest settlers in the Western District. Anderson had enough money to build the homestead in 1874, having sold off most of the land in 1871, naming what was left Mooramong. He commissioned Geelong architects Davidson & Henderson to design the home.
After its sale in 1889, the property passed through a few owners, who made small additions and developed the gardens and surrounding park, before being acquired by Mackinnon senior in 1926. Young Scobie, a Cambridge undergraduate, made little change to the homestead, apart from remodelling the front verandah, until he met and married former silent-movie star Claire Adams in 1937.
Canadian-born Adams, who had been left very rich on the death of her first husband, acted in no fewer than 46 Hollywood movies, including five Zane Grey films, working alongside the leading directors and actors of the day. In London, she met tall, ruggedly handsome Scobie, who was there for the Coronation.
After a whirlwind romance of just three weeks, they took their vows at their Mayfair high-society wedding and embarked on a year-long honeymoon through Europe, the UK and the US. Finally, in 1938, the Australian sheep farmer and Hollywood starlet headed for Australia to set up home together at Mooramong.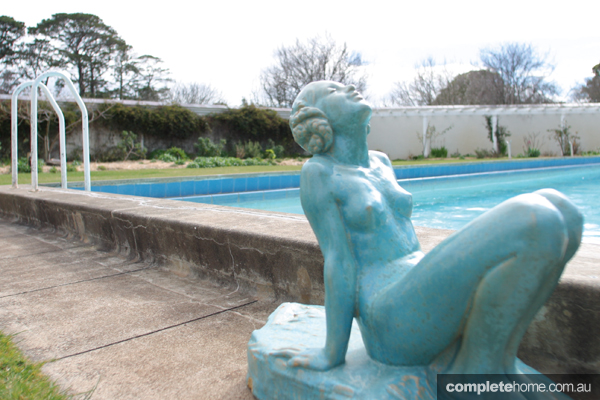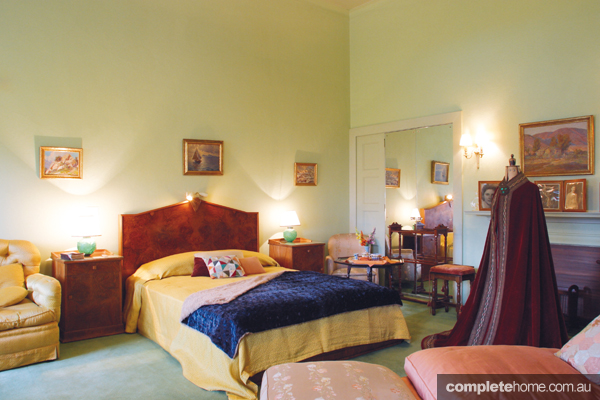 Glamour makeover
The couple soon set about creating their own private paradise, transforming the staid 19th-century homestead into a fashionable abode, redecorated in the Moderne style with Art Deco elements and Georgian accents. Claire had commissioned Melbourne architect Marcus Martin to undertake the modernisation.
The external footprint of the homestead itself remained, though the weatherboards were rendered and most of the original 19th-century Gothic detail was removed (reluctantly, it's said, on the part of the architect) — perhaps because the style was roundly ridiculed by American House and Garden magazine at that time. A heated swimming pool (the first in Victoria), pavilion and pergola were added and a garden plan was prepared by designer Edna Walling, though it was little implemented.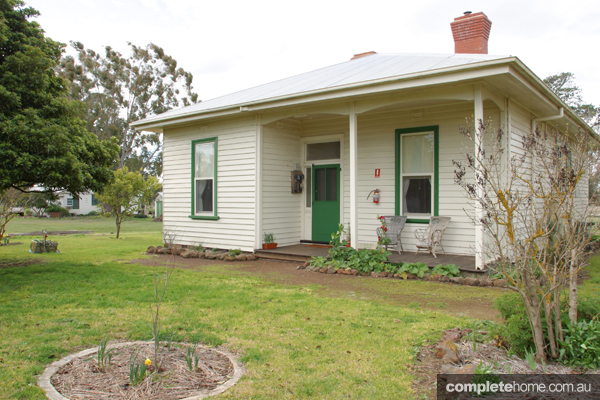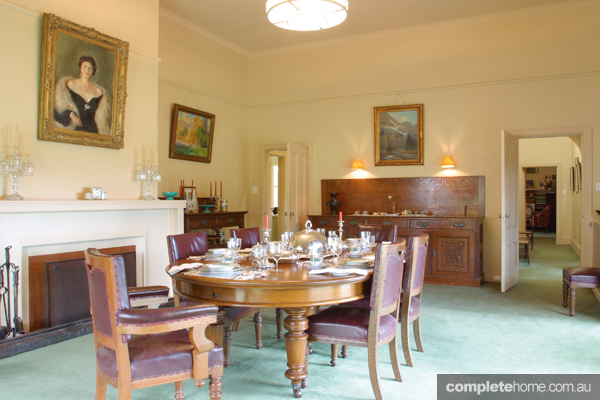 Much of the 18-month-long renovation work was done on the interior. Of course, a home theatre was an essential part of the brief for this couple. Other entertainment areas included the music room, bar and games room, the latter two being all the rage in fashionable homes of the time. These areas all displayed the influence of modernism, as did the pool furniture and light fittings throughout the home.
The style of the bar with its green leather dado with chrome strips, recessed fireplace and curved bench took its lead from the interiors of ocean liners such as P&O's new Orcades. Another fashionable 1930s innovation adopted at Mooramong was the use of built-in furniture, particularly in the kitchen but also in the bathrooms. The use of Formica, too, was cutting-edge, as it was not generally available in Australia until after World War II. Wrought-iron features, such as the front screen door, also appealed to Martin.
Claire, it seems, may not have been Martin's easiest client to work for, not because of temperament but due to her reported difficulty in understanding drawings. So it was often a case of "build and demolish until it is right", according to Stephen Dorling, Martin's assistant at the time. The lounge mantelpiece, for example, was rebuilt six times. She also, apparently, returned a grand piano to London because it wasn't exactly the colour she'd ordered.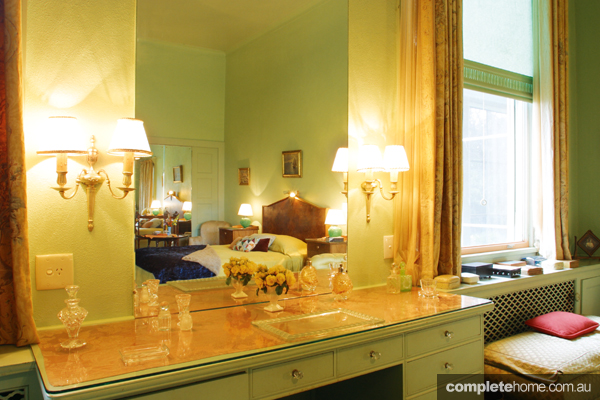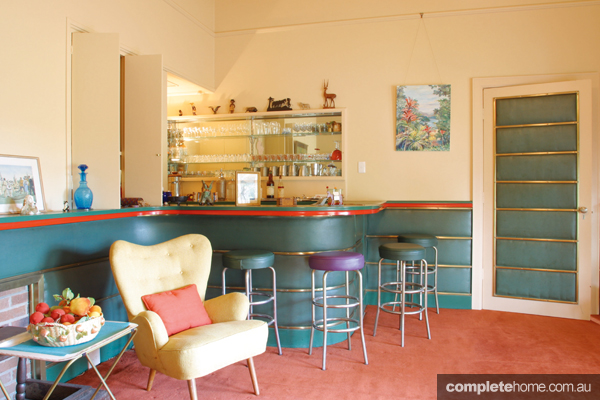 The Mackinnons were very popular, though, and great charity workers. They entertained the cream of high society and local community folk alike, throwing open their home for parties, film nights, musical evenings and card nights, and welcoming all to swim in their pool. Claire's natural charm and beauty won hearts and her love of animals was legendary.
She even came in for criticism when in 1944 a great bushfire threatened Mooramong and Claire's first thought was to save the dogs by letting them off their chains — before worrying about the expensive farm equipment. Still, almost single-handedly, she managed to save most of the property, only losing some outbuildings and the manager's residence, which was rebuilt in 1947.
More work was done on the house over the years, though wartime shortages made it difficult during that period. Scobie died of cancer in 1974. His devastated wife had myriad photos, home movies and press clippings to remind her of their wonderful life together, until her own death in 1978. The couple had no children, and the house and bulk of their estate were bequeathed to the National Trust.
Mooramong today
After the war, more than 2000ha of the land was resumed for soldier settlement and the property now stands at over 1500ha, running 5000 head of Merino sheep as well as cereal crops. The Donald and Claire Mackinnon Trust was established to preserve the house and gardens. The income from the working farm provides financial support and the property serves as a model of good farming and conservation practices.
A chunk of the land is given over to the Mackinnon Nature Reserve, an important habitat for the endangered Eastern Barred Bandicoot. The reserve's native grasslands are also home to kangaroos and swamp wallabies, as well as many bird species, including brolgas and wedgetail eagles.
The single-storey homestead is still very much as it was enjoyed by the Mackinnons, with many of their personal effects making it homely and the photographs, furniture, curios and art evoking some of the upperclass glamour of the '30s and 1940 in particular, as well as the '50s and '60s.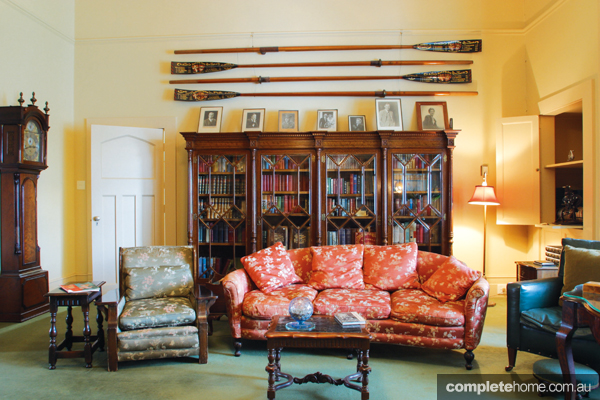 Outbuildings include a laundry, boiler room, former fowl feed store, dairy, toilet, milkman's house, tool shed, two meat houses and a coal bunker, as well as the manager's, overseer's and stockman's residences. There's also a house that was originally built in 1978 for family friends, the Youngmans.
Farm buildings number a shearing shed and shearers' quarters, single men's quarters, stables and machinery and storage sheds, as well as a garage, vehicle shed, killing shed, dog kennels and water tanks. The farm buildings house many interesting historical items and implements.
As well as its significance as a showcase for the privileged way of life enjoyed by the Western District squattocracy, and its poignancy as a much-loved family home, Mooramong is unique among historic Victorian homes for its fascinating historical, aesthetic, architectural and natural value.
Mooramong
Glenelg Highway, Skipton, 3361, Vic
Website nationaltrust.org.au/vic/mooramong
Originally from Period Style magazine, Volume 9