Out with the old, in with the new.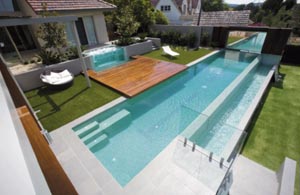 With an old pool structure to utilise and a stunning new design in mind, Mediterranean Pools and Spas transformed the old into a graceful and elegant new entertaining space.
The pre-existing structure was used as a base for an in-ground water tank, which then became the base for the new swimming pool, as well as providing a new water source for the property.
A large glass panel was imported from overseas to be installed as a feature of the new design, which also included extensive wooden decking, a negative edge and a flowing spillway. The pool is fully tiled with Italian Bisazza glass mosaic tiles, adding to the immaculate finish.
Designed by Mediterranean Pools and Spas in conjunction with the client, the pool is the perfect example of what can be achieved with a little time, thought and effort, with the end result something both elegant and very functional.
The team at Mediterranean Pools and Spas believe a swimming pool should become a feature of the home as well being low-maintenance, to ensure more time is spent enjoying the pool than cleaning it. A pool can be a statement of the client's personality and this is an important factor to consider in the design process.