Combining style and sophistication with complex construction.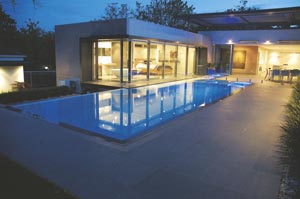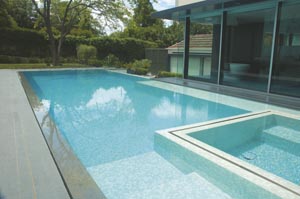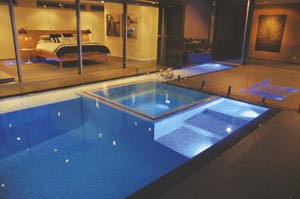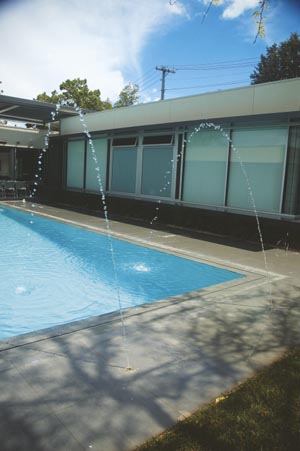 This stunning pool and spa, designed and built by Mediterranean Pools ACT, combines stylish and sophisticated design features with complex construction practices.
The owners of this property wanted a link tying the inside and outside of the property together; a home that could be open and transparent, flowing from one area to the other. The architects of the house set up this vision, providing the ideal location and surrounds for the pool's installation. The house and pool work together perfectly, yet each, when viewed separately, stands on its own merits.
A wet-deck drain around the perimeter of the pool provides a seamless flow from the paved areas to the interior of the fully tiled pool. A stainless-steel slot drain around the spa and a feature water trough nestled close to the house make the pool appear a continuous flat sheet of unbroken water.
The infinity edge and water jets give added visual interest to the pool, making it a water feature in itself, seen from all angles of the house. A shallow swim-out along one side provides a great spot to recline on a hot day or for kids to play and wade.
To keep the pool clean and looking its best, a fully integrated in-floor cleaning system was installed. The PCC 2000, by Pool-Water Products, is exclusive to Mediterranean Pools in the ACT and keeps the pool water cleanliness maintained constantly, thus reducing cleaning time significantly.
The pool also has a cartridge filter rather than a sand filter, to reduce water wastage in times of filter maintenance.
Mediterranean Pools ACT is a third-generation company that builds 25 to 45 pools each year. The company is a specialist in the construction of concrete pools and spas inthe ACT and surrounding areas.
A member of the HIA and SPASA, Mediterranean Pools ACT has won more than 50 industry awards over the years. Most notable was the Platinum Award from SPASA, an award never previously given out.