Apaiser defies convention with its cutting-edge Richmond showroom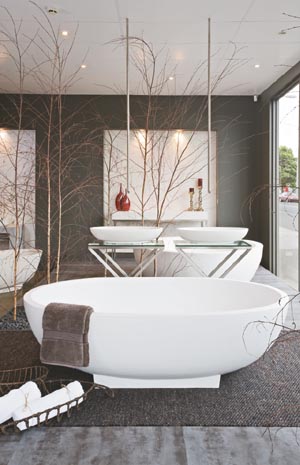 Apaiser, an Australian-owned international bathroom designer and manufacturer, has recently launched a new Melbourne showroom. Based in Richmond, the showroom is the major flagship store in Australia, showcasing the apaiser stone composite bathware range.
The showroom design, created by Patrick Meneguzzi Interiors, features warm, beautiful and inviting spaces that give visitors the opportunity to see the apaiser bathware range in a variety of environments.
The layout allows apaiser to effectively display a wide sample of its stone composite bathware range and showcase innovative designs and shapes, such as its Lunar and Sublime baths. The vanities and basins that are also shown are designed to be a major step forward in bathrooms for Australia, which allow the customer to differentiate their bathing space within their home by using apaiser's silky-smooth stone.
Visitors will, for the first time, see the broad apaiser range in the flesh with the display illustrating the depth and versatility of the company's bathware range. The space also offers work areas for designers and architects to discuss projects and explore options for using apaiser bathware.
All the company's staff have interior and design qualifications that allow them to assist with planning and design as well as product and colour selection for customers using the apaiser stone composite bathware product range.
Since the opening of apaiser's first showroom in Malvern in 2005, the company has seen a significant growth in retail trade within Australia and NZ. The new Richmond showroom will only see this trend continue.
The initial response has been overwhelming and extremely positive. Even in the final days of fit-out and set-up, the showroom had curious visitors dropping by to see what all the fuss was about. The new Richmond showroom is a departure from conventional bathroom displays and environments and is truly a luxurious space in its own right.