A luxurious ambience can turn any kitchen from just a place to cook into a dream come true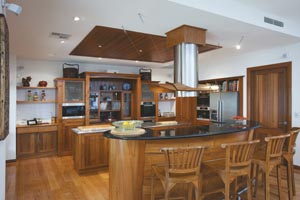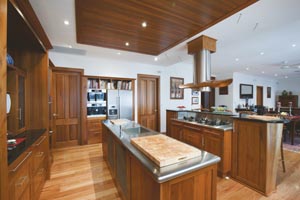 Wanting to bring a little of the tropics into their new home, the owners of this dazzling kitchen decided that the hub of the home was the best place to start. Because the kitchen was to have a large family to cater for, the design needed to incorporate different zones so more than one person could cook simultaneously. Aesthetic qualities were also an important part of the client brief, as the kitchen is on display from most of the ground floor. As it was vital that the kitchen look good while performing highly on the practicality scale, the clients are very happy with this impressive outcome.
Because the home is filled with Asian artefacts, the kitchen was built to complement the home and its attire. The food preparation bench is certainly an eye-catcher; not only does it look spectacular, but it is also very hygienic.
The double dishwashers will keep the benches looking great and free of the dirty dish clutter that is common in every hardworking kitchen. This is a great addition, especially if more than one chef is busy creating palatable delicacies in the space. The custom-built walk-in coolroom is another grand feature of this exquisite kitchen.
The brasserie-style cooking bench allows the owner to whip up superb cuisine while entertaining family and guests. The area only has one wall that items can be built into, so the design incorporated two island benches to help with extra space. This has maximised the workable area while giving a lovely open feel.
The use of different textures throughout the kitchen and the warmth of wood provide the area with an engaging ambience.
APPLIANCES include a Miele pyrolytic oven and combi-set cooktop,
a Miele rangehood and Qasair custom-made with moulded teak trim supported with stainless-steel wire, two Miele 4863SCUI fully integrated dishwashers, an LG GRC24795 refrigerator, a custom-built walk-in coolroom, custom-made 1.2mm welded-in sinks, and a Miele coffee machine and steam oven
COST, approximately, for design, manufacture, installation, appliances, plumbing and electrical, $70,000