Taras Wolf had always loved the idea of communicating through drawings, realising early on that architecture could change lives.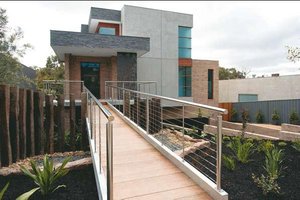 After studying architecture at university, Taras Wolf decided to branch out and took up careers related to painting and sculpture, graphic design, property development; and for 15 years he was a professional ballroom dance competitor and instructor. During these years, however, he still had some connection to the building industry.
"Designing buildings was something I'd always done well but for a long time I just kept it on a pilot light. In 2005 it was finally time to fuel that flame into a burning passion," he said. "In an era of grave environmental concerns, I began to understand the power that architecture could have on peoples' lives and saw this as my way to make a positive difference." With this in mind, Taras started Wolf Designs (today known as Wolf Architects), a company that aims to improve life by being responsive to its clients while implementing environmental designs and systems in new buildings. He also went back to university to further grasp this idea of sustainability, and has since remained involved with the University of Melbourne as a part-time design teacher and lecturer. 
According to Taras, Wolf Architects promises three points of difference. This first is passion. "I'm extremely passionate about what I do and going to work every day is more play than work. I want to enhance life through good design." The second is a balance of flexibility, creativity and responsible design approaches and methods, and the third is good communication. Understanding what the client wants for their home and incorporating a green approach to design inspires his processes and need to stay up to date with new methods and technology. "The industry moves so fast and is so diverse that I find it hard to believe any one architect can possibly a positive difference know it all," he adds, explaining, "One is continually learning in this industry and it's important to maintain an open mind with each new project. It's not about what you know or how much you know, but more about how quickly you can absorb new information and process it into good architecture."
Energy efficiency is part of good design for Taras. "We have a responsibility to the environment," he states. "It's just common sense to orient a building properly, place windows in the appropriate places as this is part of considering a building's long-term usage, life cycle and embodied energy." Through his own experience, he's noticed the dramatic change. "Compared to five years ago, most firms in the industry have jumped on board the 'green train' in one way or another," he says. Living green is a growing trend in architecture and design. "One important green trend that I would like to see is designing and constructing smaller homes," he explains, "Bigger is not always better because larger homes cost more to build and maintain, both from a monetary view as well as an environmental view. Smaller homes also tend to connect the family unit better." 
In terms of sustainability in the home, another element to consider is zoning in the home. "Open plan homes are still very popular because they look and feel great, but now it's also become more important to find ways to zone spaces and seal them off for energy efficiency," he comments. "It takes so much less energy to heat or cool smallercontained spaces." The global financial crisis affected most small design firms and Wolf Architects used this crisis as an opportunity to explore new marketing strategies. The result was an expansion of its services to provide full architectural services in both residential and commercial areas. Taras builds homes that are adaptive and dwellings that seamlessly complement the Australian climate and environment. "As an architect it is my responsibility to go beyond the client's brief to find the perfect balance between what they want and what works for the broader culture including the natural environment," he says. "Buildings should last more than a lifetime." 
For more information, visit www.wolfarchitects