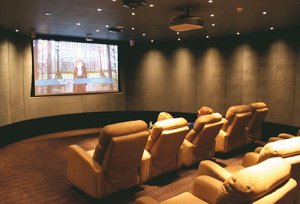 When the sleek 56-floor tower, Lumiere, by renowned English architectural firm Foster + Partners, opened its doors in Sydney recently it came with something quite unique. Alongside a state-of-the-art gymnasium, 50-metre indoor swimming pool and soaring three-storey glass lobby were two screening rooms for the private use of residents — an amenity which reflects the growing accent on luxury in contemporary living, say the building's developers, Frasers Property Australia. "Across the globe, the trend is toward innovative lifestyle enhancements to residential property as people's expectations keep rising," Adam Sparkes from Frasers said. "People are looking beyond the four walls of their apartment for facilities which deliver all the lifestyle advantages and scale of a resort home." While the company may be the first to offer boutique cinemas in high-end residential projects in Australia, it's a trend that's already up and running overseas. Not only are new apartment buildings in both London and New York now regularly promoting bespoke theatres as part of the service mix, but some of the world's hippest hotels — The Kube in Paris and The Wit in Chicago for starters — have also decided it's a must-have option. It suggests that even with the latest flatscreen plasma or LCD televisions readily available in apartments, or five-star hotel rooms, there's still ample room for the full-on film experience we obviously crave. And more and more we seem to want to have it in as intimate, comfortable and glamorous a setting as we can.
Dedicated follower of cinema
Thankfully the dedicated home theatre has kept delivering the goods despite some stiff competition from all-purpose media rooms, televisions with bigger, crisper visuals, and highly mobile, movie-ready, smart phones. Even in the depths of last year's "great recession", American builders were still reporting that home cinema installation had stayed robust as more people opted for in-house entertainment. The Consumer Electronic Association is also upbeat, predicting the world home theatre market will soon be worth $13 billion. Home cinemas just keep getting better, it appears, regularly upping the entertainment stakes so the quality we can now achieve at home is as good as — and often better than — commercial cinema. While a home theatre five years ago may have only had five speakers as part of the surroundsound setup, today they usually come with seven and sometimes even more. Similarly, DVD players have morphed into Blu-ray, high definition alongside cutting-edge remotes, wide screens, media centres, set-top boxes and whole-house automation control As the cost of a lot of the technologies involved continues to fall (high-definition optics or surround-sound audio, for example), home cinemas have cornered the more immersive film and sound experience market. Taken in tandem with burgeoning options for tailored lighting, acoustic treatments, network control, luxurious fittings and impeccable design, it just means the dedicated movie space has simply got a lot more sophisticated. For Len Wallis from Len Wallis Audio — one of the country's most respected audiovisual retail and installation companies — home cinemas are still very much a key part when it comes to designing and building highend homes. "Yes, there are great options for a media room these days, but the appeal of the home cinema is its ability to provide a true spectacle," Len said. "And nothing comes closer to that than a dedicated, welldesigned space." According to Len, you can still comfortably divide home cinema costs into the accepted industry standard of under $50,000, under $100,000 and $100,000 plus, even if what's achievable within each category continues to subtly shift. "What used to cost above $50,000 can now often be delivered under that amount," Len said. "But at the top end of the market you're getting some stand-out components and features that keep redefining first-class home cinema. It's also true to say that home cinema is always on the lookout for the sort of technology that can really tweak the film experience so it's seamless and magical."
It's a wrap
And you don't have to look any further than the move toward anamorphic — or wide-angle — screens and projectors to see the "wow factor" hard at work. While the buzz on these has been building for a while, it's now become the go for people wanting to invest in a high-quality, private screening room. "This trend has really consolidated at the top of the home market and will now begin to filter down," Paul Kutcher from Visual Fidelity said. And once you've seen them in action, you understand the compulsion immediately. For a start, anamorphic-enabled projectors create an image that is much wider and clearer than can be achieved in any other format at home — think cinemascope at the movies and you get some idea of what's possible. These lenses can, in fact, increase the resolution and brightness of films by as much as 30 per cent according to cine-philes. And as we stretch out toward wider images, we increasingly now watch them on huge, seamless screens. Certainly the Stewart brand of screens that High Fidelity distributes here is not only an elite product used almost exclusively by Hollywood studios — it can accommodate pretty much any space or situation. "These screens are tailored to fit any environment and can be made as big as needed so that you can feel like you are wrapped by the movie," Paul said. They can also come in a range of styles from flat screen, pull down, motorised, perforated and, more recently, curved. "The curved screens take it up a notch because they can really accommodate the wider image by removing any black lines, reducing cross reflections, and it's a better viewing experience for the people watching," Paul added. Wide movies do add some issues of their own to the dedicated home cinema, not least of which is sound. As the screens push boundaries, they have to compete with speakers for prime front-ofroom real estate and that throws a new dynamic to the whole room. But as Steve Spurrier from Studio Connections Australia says, it just means you have to really tailor the acoustic solution for the best result. "We try to educate our clients that it isn't so much about the brand, but rather how your components are engineered and designed," Steve said. "The wide-angle trend is certainly here to stay, but you have to make some subtle adjustments to speakers to make sure it works just as well with these improved visuals." Coming right at you Of course, nothing is hotter when you talk about better visuals at the moment than the imminent arrival of 3D technology at home. And it's literally closer than you think. Not only are most of the major entertainment, television and video game companies rapidly ramping up 3D content — the blockbuster Avatar alone is expected to turn that into a stampede — but most television makers are also getting in on the act. LG, Samsung, Sony and Mitsubishi have all made commitments to rolling out new 3D-ready sets in the coming years, even if you will still have to wear those not-so-glamorous glasses to do it. But 3D looks like being everywhere pretty soon, with screen options being touted for smart phones, cameras, digital frames, laptops, DVD players, game boxes, advertisements and, yes, projectors. The 3D-enabled home cinema hasn't had a lot of press to date, but that's soon expected to change. And when it comes it will be a game changer for home entertainment, particularly when it can be combined with gaming. In the past year, a spate of companies have announced new projectors that have 3D capabilities, including JVC, Optoma, DPI, Sanyo, Nvidia and ViewSonic, though commercial availability and costs may still be major barriers for most people for a while yet. Some sceptics also worry that we'll not be all that keen on donning glasses to watch television or films in the lounge room. Doing that in a dedicated home cinema, however, may be another thing all together and could be the extra immersive touch that's needed, particularly for watching sport or musical concerts. But even those concerns may be a thing of the past fairly soon as research ramps up ways to avoid using glasses at all. Hitachi just showed off the Full Parallax 3D TV that, despite being tiny, can be watched by the naked eye, while others, including Australian company 3D Motion, are starting to layer the technology straight over screens.
Room with a view
If you thought the dedicated theatre was that add-on box with no windows and no connection to the rest of the house, it's time to think again. One of the hottest trends in home IQ in recent years has been adding a lot more networking technology around the house, and the home cinema has often led the high-tech charge. This is not only because it relies on sophisticated components to actually work properly, but because fine-tuning the ambience through intelligent lighting, automated features such as curtains or climate control just smooths out the experience so much more. No big stretch, then, to start providing wholehouse management from the cinema armchair so that you can access a library of content, connect to the web, check security cameras, turn off lights in other rooms or even let your guests in as they arrive for the double bill. Increasingly helping out with all this multitasking is the humble remote control, which, if you've noticed lately, is starting to grow up. Already remotes are fast becoming the universal interface for content and features, including whole-house networking, and they're doing it with a lot more style. Touchscreens, LCD displays, motion sensors, haptic technology — that gives you the sense you've pressed a button when you've really only touched a screen — and even blogging remotes that tell you what you're watching are all now available. And while voice command remotes have been around for a while, they're about to get a lot more sophisticated. US company AT&T has developed a prototype that it hopes to market soon that will recognise hundreds of thousands of words, not just a few — which means that any time soon you could be telling your remote that you want to watch a romantic comedy with Julia Roberts with the lights off, the heating down and the chair reclined.
Show time
Call it maturity perhaps, but probably one of the most important things to happen to home cinema lately is the way it now looks. Gone is the decidedly unlovely converted spare bedroom or dingy basement filled with boxy speakers and banks of nerdy components. The invasion of the whole family, and particularly women, into the home cinema space has certainly had a lot to do with that as it segues into a place where everyone can indulge their media love affair. Technology has also helped. We can now hide away nearly everything connected with actually watching a movie using motorised screens and projectors to recessed lighting and invisible, wallor ceiling-mounted speakers. Digital storage has done its bit as well, and instead of shelves of videos, CDs and DVDs we now have tetrabytes of memory that can be tapped using space-age remotes or online by merely accessing the "cloud". No wonder, then, that the home cinema design stakes have heated up. Into this clean, clear space have rushed the architects, interior designers, consultants, specialised furniture companies and customised cabinetry experts to help re-imagine what's possible. Even a quick look around the web will tell you that not all of this activity has been good, of course. While not entirely to everyone's taste, home cinemas themed for, say, Star Trek or Studio 54 — and the countless other homages out there — do at least add some element of fun to the whole exercise. But more and more there are extraordinary examples of design, workmanship and technological fusion that keep redefining just what's possible. "At the end of the day it's about the sound and image, but the way the room looks is also a major factor in how to enjoy watching movies there," said Gavin Butler from Butler Interiors, who, along with his wife Melanie, has been designing home cinemas for more than a decade. "Particularly at the high end there is real interest in luxurious touches such as a curved screen, raised floors, recessed lighting and beautiful seating. The contemporary look seems to be the most popular one at the moment, but even here people want to add different details to create an individual space," Gavin said.
The screen test
Most people with a fabulous home cinema love it just for its own sake and don't really think too much about what all that TLC might add to their home's value. But there's a growing interest in trying to do so. Certainly in the world's biggest market, the USA, realtors are starting to factor in the dollar benefits even if there is no official approach just yet to quantifying its value. It's a similar story here and as one real estate professional put it, "It's not something you specifically tote up, but of course a great-looking screening room just adds to the overall appeal of a property." One fairly obvious sign of that has just happened online. Not only has the most popular home value website in America — www.Zillow. com — just started showcasing home theatres, but added a bit of reality TV as well. In a section called "Duelling Digs", private cine-philes not only get to show off their lovingly crafted screening rooms, but the world also gets to vote which one they think is best.