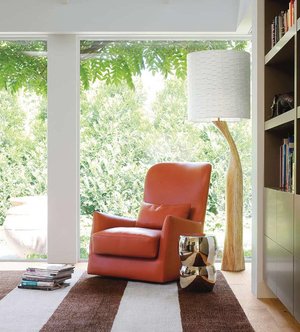 With a background in civil engineering, Roger Lawton developed an inquiring eye and a general understanding of size, scale and proportion. "Engineering requires a design discipline and from here I moved through fields involving decorative arts, management and retail," explains Roger.
"Life's experiences have added to my creativity and I am now very fortunate to be able to run my own business and set personal standards of quality, service and product design." With experience in purchasing and selling decorative items, including rugs, Roger felt destined to pursue a path in supplying quality rugs to clients. His company, Roger Lawton Rugs of Distinction, was launched in 2003 and has evolved from a general commercial approach of sourcing and purchasing to having its own designs and concepts manufactured to a desired blend of quality and sophistication. As a designer, Roger loves the process of creativity from conception to the final installation in an interior. "It's an arduous but rewarding task, sometimes involving many manufacturing months.
From the design drawing it moves through a hands-on journey in northern Pakistan to the final finishing of a rug that will then become a beautiful layer in an Australian interior," says Roger. "It's very rewarding to consult, create and assist in bringing purpose and evolving life to interiors," he adds. With the inspiration for his latest range coming from botanical and landscape inspirations, it isn't surprising to discover Roger's basic design philosophy is that "design should be clean, forthright and enduring". Although he understands that good design can be achieved relatively quickly, using readily available products out there, Roger believes great design takes more time to evolve. "It invariably requires the assistance of enthusiastic, passionate suppliers working with an accomplished interior designer who will create a custom and individual interior for you," says Roger. "We all need support and advice and as with life, we should enjoy the journey of design as it evolves." Rugs purchased from Rugs of Distinction have an interesting journey themselves before they reach their destined interiors.
The handknotted product is produced by experienced weavers using ancient traditional techniques handed down through generations in Pakistan. "There is an organic hand-crafted approach to our production, with the use of natural fibres in the cotton structure and wool pile," Roger explains. He has an understandable passion for all aspects of his design process, appreciating the drama and depth colours and textures can create. He describes luxury as something that can be ascertained from the visual form and is well apart from mass production. "Happily, with the process of design you can add layers of luxury and cease at any point that becomes your level of comfort … for me, this point is a little under glamour!"
For more information visit www.rugsofdistinction.com.au