Transform your abode into one that everyone will envy with these chic decorating ideas and practical yet oh so stylish pieces for the kitchen and bathroom.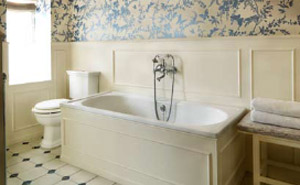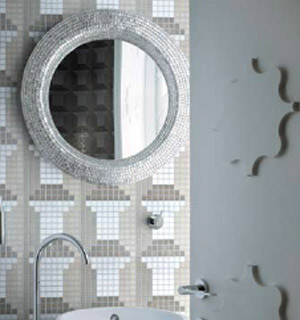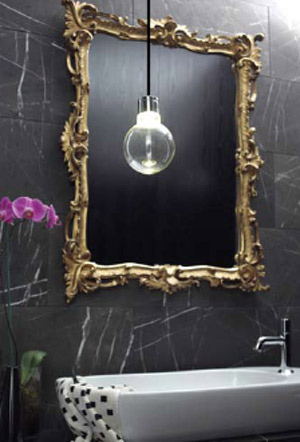 By Natasha Saroca
A is for Action
Action in the kitchen, that is. Whipping up a storm is a breeze with Miele's new premium range of KM 6000 Induction Cooktops, which offer extremely short heat-up times, exact power regulation, safety features and, most importantly, professional cooking results. Visit www.miele.com.au
B is for Bling
From sparkling chandeliers to shimmering tapware, a little bit of bling never fails to add a touch of refined elegance and class to any space. Try Chelsea Basin Set by Brodware Industries with Kristall Lever handles from Just Bathroomware. Visit www.justbathroomware.com.au
C is for Celebrity Chef
Enjoy a five-star dining experience every night of the week by taking cues from culinary masters. Showcasing his signature dishes and seven of Australia's most beautiful homes, celebrated chef Guillaume Brahimi's debut cookbook, Guillaume: Food for Friends (Penguin Australia), is a must-have for any foodie. Visit www.penguin.com.au
D is for Dim the lights
Luxury is not simply about style — it's also about creating the right atmosphere. Statement lighting will help transform any space into one that evokes a feeling of elegance and subtle sophistication. Visit www.beaconlighting.com.au
E is for Ergonomic
Your home may look good, but does it work for you? Clever solutions, such as Blum's SERVO-DRIVE for AVENTOS HK and TANDEMBOX pull-out systems, will ensure your kitchen and other living areas offer the perfect combination of form and function. Visit www.blum.com/au
F is for Feel the heat!
Keep those winter chills away by indulging in a heated towel rail or, for an added dash of decadence, underfloor heating. We love Cass Brothers' sleek, ultra-modern Vola heated towel rail. Visit www.cassbrothers.com.au
G is for a Good host
With a few extra special touches here and there, your guests will feel like they're enjoying a sojourn at a sumptuous five-star hotel rather than a short stay at your family residence. Pay special attention to the bathroom — think sumptuous bath robes, beautiful scented soaps and thick, fluffy towels. Try Linden bathrobe by Canningvale. Visit www.canningvale.com
H is for Hot, hot, hot
Install one of these beauties in your new kitchen and you won't know what you did without it. Siemens' stylish stainless-steel built-in warming drawers will pre-heat your dishes and plates and keep your culinary creations at just the right temperature until dinner is served. Visit www.siemens-home.com.au
I is for Icy cold
Fisher & Paykel's IZONA CoolDrawer is an innovative kitchen appliance that looks good and works even better. Stylish, ergonomic and designed to keep your food fresher for longer, the CoolDrawer is the perfect addition to any chef's corner. Visit www.fisherpaykel.com.au
J is for Just desserts
Whip up delicious desserts in a flash with KitchenAid's Artisan Stand Mixer. Worthy of any professional kitchen, this high-performance beauty is fast, efficient and will help you create mouth-watering treats in no time at all. From KitchenwareDirect. Visit www.kitchenwaredirect.com.au
K is for Keeping clean
Wash away your worries at the end of each day by indulging in a long, ultra-relaxing shower. Enjoy the ultimate showering experience with Hansgrohe's popular Raindance Rainfall 180 twin-jet overhead shower, which offers a soothing waterfall-like sensation. From Candana Designs. Visit www.candana.com.au
L is for Less is more
Minimalist cooking and bathing areas not only offer enhanced functionality and instant visual appeal, but also a look that speaks of luxury. Clean lines, slick reflective surfaces, high-tech gadgetry and an airy, open feel are just some of the things you'll find in these striking, modern spaces. Ola rangehood by Elica. Visit www.elica.com.au
M is for Made to measure
Whether you desire abundant storage, have specific size or finish requirements or simply covet a show-stopping centrepiece for your bathroom, a bespoke vanity ticks all the right boxes and will ensure your lush bathing area caters to your lifestyle and every need. Custom-built vanity by Kastell Kitchens and tiles by Gasparre Tiles.
N is for Niceties
Christen your beautiful new kitchen by hosting an intimate dinner party. kikki.K's elegant Klassisk invitations and RSVP cards will help set the tone for the evening, while the matching place cards will bring an extra touch of class to your table. Visit www.kikki-k.com
O is for Organic
With graceful curves and more than a touch of natural beauty, organic shapes can transform an otherwise ultra-modern bathing area into a welcoming oasis that offers resort-style luxury. Napoli collection from Victoria + Albert. Visit www.vandabaths.com/aus
P is for Palette perfection
A classic neutral palette will never go out of style. Team crisp white with pale taupes and shimmering greys to create a sophisticated space that will be the envy of all your friends. Blocksgrey, Bisazza glass mosaic pattern, Anthology collection. Design by Carlo Dal Bianco. Visit www.bisazza.com
Q is for Quick and easy
Don't feel like doing the dishes? Easy to use and with a turbo condenser dryer, seven wash programs and self-cleaning filters, ILVE's semi-integrated dishwasher will do the hard work for you. Too easy! Visit www.ilve.com.au
R is for Ratings
Style and sustainability have never been so intertwined. Franke's water-savvy Rolux Tap Series will add a splash of drama to any kitchen and boasts an impressive four-star WELS rating, too. Visit www.winningappliances.com.au
S is for Sneaky storage
Storage is the ultimate luxury in any space. If a slick, seamless look is what you desire, ask your designer to tuck storage areas away from sight behind unassuming doors and drawers. Kitchen designed by Urban Kitchens.
T is for Touch-me textures
Entice people inside with sumptuous surfaces that are pleasing to touch and engage the senses. Our top picks? Lustrous high-gloss surfaces, ever-popular timber, slick stainless steel, sparkling glass and elegant natural stone. Style Collection from Amber Tiles. Visit www.ambertiles.com.au
U is for Under the sun
Enjoy entertaining outdoors? Then you'll love Electrolux's sensational En:V Barbecue. Its ultra-sleek contemporary design, innovative features and professional results will ensure guests will be flocking to your home all year round. Visit www.electrolux.com.au
V is for Venus
Venus was the Roman goddess of love and beauty and we just know she would adore these exquisite crystal wine glasses by British designer Jasper Conran. The Jasper Conran at Waterford Crystal Brilliance collection. Visit www.waterfordcrystal.com.au
W is for Wall couture
Let your walls take a starring role in your kitchen or bathroom. Make a bold statement with eye-catching wallpaper, a splash of colour, intricate mosaic tile pattern or even your favourite piece of art. Visit www.signatureprints.com.au
X is for X-tra sharp
A good set of knives is a must for any aspiring chef and Wiltshire's Staysharp Premium 12-piece knife block certainly fits the bill. With five preparation knives, a built-in sharpener and six steak knives craftily hidden within a base drawer, this is the ultimate benchtop accessory.
Y is for Yes
After all, who would say no to a glass of Veuve Clicquot Rosé? Wine connoisseurs will covet the enchanting limited-edition Birdsong Ice Jacket, a quirky take on the much-loved label's signature tailored sleeve designed to keep the bottle at the perfect temperature for up to two hours. Phone 1300 136 590.
Z is for Zen
There's nothing quite like locking yourself away in your bathroom for an hour or two of peace, pampering and relaxation. Set the mood with fragrant candles, soap and finish off with a slather of silky smooth body butter. MOR Emporium Candied Vanilla Almond Candle, Body Butter and Soap. Visit www.morcosmetics.com