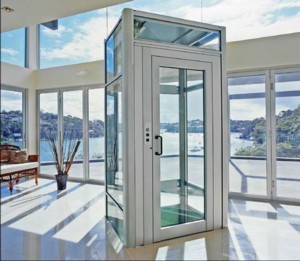 Home elevator experts say that purchasing and installing a lift for your home can be likened to the experience of purchasing a car. You need to see, feel and ride in a car to understand its full potential, and considerations of quality, price and finishes can only be determined after experiencing the car for yourself. The same goes for home elevators. According to Bernard Edwards from Lift Shop, "It's one thing to see images in a brochure, magazine or website, but until you have actually seen the lift, felt the quality of the ride and considered the different finishes available, the purchaser is leaving themselves open to not understanding what they are buying and potentially being disappointed with the end product." To ensure you understand what's involved when installing a lift in a new or existing home, Luxury Home Design talked with three lift experts: Dijana Vojvodic from Easy Living Home Elevators, Bernard Edwards from Lift Shop, and Lukas Marneros from Liftronic.
What should people consider before installing a home elevator?
Dijana Vojvodic: Quality, price and finishes are key considerations to determine the right decision is made. Beyond that, preparing for an installation requires a consideration of space requirements and an awareness of the product timeline. Bernard Edwards: Every purchaser should consider whether the lift is to stand out or blend in, have swing doors or sliding doors, a single opening or through-car layout, masonry or glass shaft, power needs, construction issues, speed, drive type, size and finish options, the payment terms and costs that are not included.
In terms of aesthetics and design, what kind of choice is available?
Dijana Vojvodic: There is great flexibility in the latest finishes, with innovative European styling that is ultra modern with sleek, clean lines that allow architects and designers to custom-design the lift to blend in with the style of the home — from a stylish penthouse to a contemporary home.
How can visiting a showroom help?
Dijana Vojvodic: This can be helpful in understanding the possibilities available and further define individual requirements. With this is mind, customers are better positioned to plan and make the right decisions to best realise their vision. Lukas Marneros: This allows the client to feel and experience the product. Liftronic also offers its clients the opportunity to visit existing installations so they can view the range in a "real" environment.
What do you see as the upcoming trends in the home elevator market?
Bernard Edwards: The desire to incorporate more advanced security access provisions is often sought and this will continue, including controls being incorporated into overall household automated systems. Lukas Marneros: Gearless traction technology is now coming into the market with the same minimal space requirements as other options.
How do emerging technologies affect home elevator trends?
Dijana Vojvodic: Smart wiring or smart cabling in home automation systems is the most recent emerging technology to become implemented in residential elevator usability. A person can operate systems, such as the garage door or gate, security system, lights and airconditioning from inside the lift. Lukas Marneros: We have seen new products manufactured to a more compact design, saving space in the home. Motors and control equipment are now incorporated into a compact cabinet rather than a traditional motor room. Liftronic's home range also offers the option of structural lift towers rather than the need for load-bearing walls, saving thousands on building costs.
What is the environmental impact? How are home elevators sustainably beneficial?
Dijana Vojvodic: The lift range at Easy Living Home Elevators has been designed with optimum energy conservation features. We've also introduced the use of the natural and organic biodegradable hydraulic fluid called EcoOil. This new fluid saves energy, lowers greenhouse emissions and assures maintenance reliability, easily replacing the traditional hydraulic fluid. Bernard Edwards: Lift Shop only uses singlephase power supply and the Supermec is an electric traction-driven lift that only uses 13 per cent of the energy of the hydraulic equivalent due to counter-weight balancing effect and revolutionary tractions drive. Lukas Marneros: Home elevators have minimal environmental impact. Low power consumption and maintenance requirements have been specifically designed for private residences.