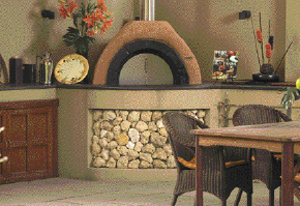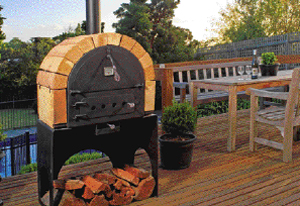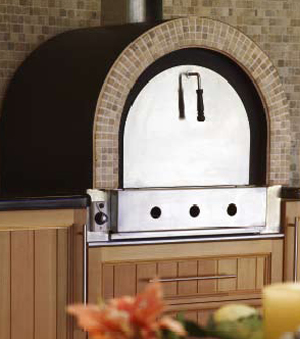 Whether stand-alone or integrated into an outdoor kitchen, a wood-fired oven is an asset
Story: Karen Booth

Although the wood-fired oven has always been popular, more and more are popping up in outdoor kitchens and backyards around the country. As we seek new and interesting ways to cook outdoors, the versatility of wood-fired cooking has been rediscovered.
A wood-fired oven can be used to cook virtually anything you would cook in an ordinary oven. The difference is you have the benefit of that authentic wood-fired flavour and all the fun of cooking outside.
"Wood-fired ovens are growing increasingly popular as people are becoming more aware of what a wood-fired oven has to offer," says Joe Cassis of Vesuvio Wood-fired Ovens. "We all know how Australians love to entertain and a wood-fired oven makes a great entertaining tool.
"It is also a very economical way of producing wonderful food in the comfort of your own backyard or outdoor kitchen, and it's a method of cooking that suits any lifestyle or setting."
Shaunagh Slinsby from Slingsby Earthenware, a company that produces a range of handmade, ceramic-based wood-fired ovens says: "The beauty of a wood-fired oven is that it is so versatile. You can cook a wide range of foods including roasts, bread, pizzas, vegetables, baked fish or turkey virtually anything that can be cooked in a conventional oven is perfect for a wood-fired oven.
"However, with a wood-fired oven you have that authentic wood-fired flavour, achieved by using a combination of smoking and baking techniques. The result is flavoursome, healthy cooking."
Pizzas are perhaps the most often cooked meal, which is not surprising when you consider it takes just two or three minutes to cook a pizza to perfection. (This is once the oven is at the required temperature, of course.) A pizza is a great stand-by meal. All you need to do is have the frozen dough in the freezer at the ready and a handful of ingredients in the fridge or cupboard and you can create a meal everyone will be happy with no need to dash to the store to buy supplies.
You can also turn making and cooking pizza into something of a party game. "Why not set out the pizza ingredients and let your guests create their own while you have a glass of wine," suggests Shaunagh.
You can also have a themed dinner party, if you like. If you're fond of Italian food, you can use a wood-fired oven to roast capsicum, eggplant and the like to create a fabulous antipasto plate, says Shaunagh. If you like Indian food, how about a tasty Tandoori chicken? If Mediterranean fare is more your thing, cook up some succulent kebabs.
The benefits extend further than the food you can cook and the enjoyment you have doing it. A wood-fired oven doesn't require the same cleaning and maintenance as a barbecue and the effect of the fire's glow is mesmerising, adding to the ambience of a dinner party and turning your wood-fired oven into a talking point.
Although you can buy ovens that are set on wheels or self-contained ovens that can be set on a suitable bench surface (and taken with you if you decide to move), most wood-fired ovens are built-in, which means you have to exercise care with placement, design and construction, and with practicalities such as venting. But whether you opt for a modular unit you install yourself or get the experts to custom-design and build a one-off, if planned well a wood-fired oven can be a real asset, both to your lifestyle and to the value of your home.