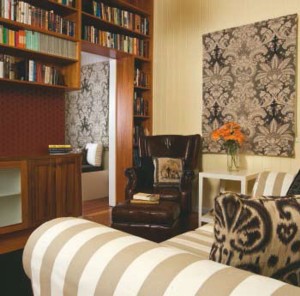 "Everyone wants their own personal retreat and sanctuary — what this looks like is very different for each person," says Helen. Born in Yorkshire, England, Helen's fascination and love of design was able to flourish with the warmth and intimacy which flows through European architecture — she says it speaks to you and tells you about its residents.
"It's wonderful to feel that connection. This is what I try to bring to my clients," she adds. Helen's style is the fusion of old and new, mixing original pieces and changing the emotion of a space. She brings pieces together to develop an emotional response to a place which will change the way the visitor feels. If she can do that, the job was successful. It's the melting pot of all the textures and design possibilities that she finds so exciting in each project — starting with the hard surfaces such as kitchens and bathrooms, moving through to colours, furnishings, wallpapers, fabrics, homewares and unique touches only applicable to that particular person.
Helen strives to offer her clients that personal touch that makes their friends smile and say "that is so you"! It is due to the success of these principles that Helen has embarked on her latest project, Millie & Mags, a design centre in the creative heart of Brisbane's Fortitude Valley. The centre's name was developed as a tribute of respect to her two amazing grandmothers who, through love and dignity, taught her so much. With a coffee shop to enjoy a delicious brew while browsing the latest design magazines or reading a new book from the book resource section, you can easily while away a few hours. With an array of stunning furniture, numerous wallpaper books and gorgeous fabrics, it truly is a design sanctuary.
"It really is a one-stop shop for inspiration and design; our collections are very special and I would invite anyone who wants a home to really live in to come and spend some time," Helen says with a smile.