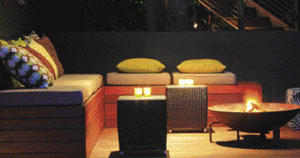 Of clean contemporary design, this waterside entertaining area is real head-turner
From the cushioned comfort of the outdoor room-style entertaining area you have the perfect vantage point from which to contemplate the gentle bobbing of the boats moored in the calm waters of the bay beyond.
This contemporary outdoor room arrangement is accessed via a set of timber steps that lead from the rear of the house, across stepped decking platforms and past a built-in barbecue. Once there, you can settle back onto one of the timber seats and enjoy the serenity of the waterside setting.
Designed and built by GOOD MANORS residential gardens, this garden upgrade was truly comprehensive, ranging from the creation of the new lounge-entertaining area and barbecue facility to the modernisation of the existing pool.
The screen of ship-lapped timber stretching along one side of the garden provides the pool and entertaining area with increased privacy and a certain sense of intimacy. This also serves to make the outdoor lounge room feel very cosy indeed when guests gather around the brazier on a chilly night.
To complement the timber screen, spotted gum was used for the decking and benches — all of which is in complete harmony with the new paved surrounds of the pool and the modern outdoor furniture supplied by Dickson Avenue.
Against the cliff, the planting has a rainforest feel. This is complemented by dense plantings along the boundary with accent plants for colour or a flourish of interesting foliage.
Forming the upper storey of the planting design you will find a variety of trees including Ficus lyrata, Michellia champaca, Randia fitzalanii and Waterhousia. For the middle storey, Pittosporum 'Miss Muffet' and Syzygium 'Cascade' have been used, while at 'floor' level you will find a variety of grass-like plants and groundcovers.
The accent plants are all eye-catching and hardy, from the architectural form of Cordyline 'Rubra' to the striking floral displays of Doryanthes excelsa and Alpinia zerumbet.
An extensive outdoor lighting design provided the finishing touch. This turns the outdoor room into a welcoming space for night-time entertaining.
GOOD MANORS RESIDENTIAL GARDENS
Tel: (02) 9818 3377
Fax: (02) 9818 4666
Email: info@goodmanors.com.au
Website: www.goodmanors.com.au
Photography by Peter Brennan