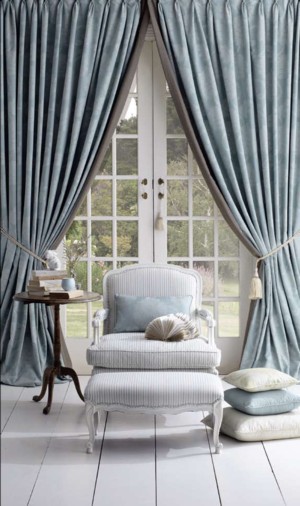 FABRICS
Furnishing fabrics have multiple uses in an interior scheme. They can be used for many purposes including window coverings and furniture upholstery, bed coverings, cushions, throws, table cloths, wall coverings and room dividers. Textiles can be made from synthetic or natural fibres including wool, linen, cotton, flax, hemp, bamboo and other natural materials. Furnishing fabrics are mostly woven or knitted but other methods can also be used, such as felting or bonding. Patterns can be woven into the fabric's design, embroidered or printed onto a base cloth or a combination of each. Fabrics for upholstery should be selected carefully for durability and wear, whereas fabrics for curtains and loose furnishings can be of a lighter weight. Beautiful fabrics make beautiful furnishings and provide a clear statement of your personal style. The Threads collection from GP&J Baker is a unique range of exquisite textiles suited to both classic and contemporary interiors. Composed of the Meander Print collection, the Meander Weave collection, Mistral and Enchantment, Threads has raised the standard for exquisite woven textiles. To complement this beautiful range, Threads has designed its first outstanding wallpaper collection with stunning abstract patterns — including shimmering gold, silver and nickel combined with subtle neutrals — reflecting the context of the collections and designed to harmonise with each of the unique designs.
The Country Garden collection from Baker Lifestyle is a young, fresh and modern take on the English country garden. The collection includes pretty botanical embroideries and crewel work on soft linens and crisp cottons. The palette mirrors the wonderfully contrasting colours of the spring and summer garden ranging from deep red and blue to gentle pink, aqua and taupe. An exceptional new collection from Mulberry Home is Grand Tour. This range takes its theme from the Grand Tour, which was historically undertaken by young gentlemen to round off their education in the arts, culture and origins of European civilisation among the remains of the ancient world. The rich, luxurious designs are in perfect harmony with the lavish textural contrasts of Soprano Weaves and the dramatic journey of Theatrical Trimmings.
The colours featured in Carlucci's Illusion collection are beautiful deep greys, rich chocolates and creams, striking black and iridescent whites. Juxtapose high-tech textures with classic linen qualities. Never-fail fabulous metallics can be combined with plains, classic designs and stripes.
WALLPAPER
Wallpaper adds another dimension to your interior space and is making a comeback (did it ever really go away?). Wallpaper can be simple or dramatic, ranging from plain colours and textures to large-scale patterns and murals. There is a wallpaper design for every room and personality in your house. Carlucci's upcoming collection is called "Illusions". In this collection Carlucci introduces rich creations inspired by new technologies, edgy design and fun structures.
The wallpapers are a vibrant mix of exciting textures, designs and colours. Different techniques were used to create an eclectic mix. Traditional techniques were used to print this non-woven wallpaper, with subtle metallic designs ranging from delicate florals to bold coats of arms and funky zebra stripes and snake skin. A foil print was used to create a modern take on traditional embossed wallpapers in a traditional design. The entire collection is rounded off with a subtle woodgrain design. Available from Unique Fabrics.
FURNITURE
Furniture should not only feel good and be supremely comfortable, it should look good, too. Statement pieces add the designer touch to your scheme and the old adage "less is more" comes into its own when furnishing a room. The size of your space will of course determine how much furniture you need — but don't crowd your room. Provide sufficient seating for your home's occupants and a few occasional chairs may be useful for when you are entertaining guests, but keep plenty of space in your rooms to allow "traffic flow" and to provide a feeling of airiness. There's nothing worse than sitting in a room packed with furnishings to make you feel suffocated.
CURTAINS
Today's modern homes are increasingly endowed with large areas of glass, which require practical and cost-effective solar management. Keeping the heat out in summer and in during winter and finding the correct balance of light is crucial to ensure a comfortable living environment. Privacy is another issue where there are large glazed areas and you will probably need some window covering for either or all of the above reasons. Lined curtains are the most effective covering for windows as they provide insulation, especially if combined with pelmets. Sheer curtains allow light to be transmitted through the fabric, with the fabric weave providing a basic level of UV protection while retaining maximum visibility. Sheers are often combined with lined curtains for a total decorating effect.
Curtains may be traditional in style, with elaborate swags and tails trimmed with fringing or braid and held back with ornate tiebacks, or they may be simple with no fancy dressing up and installed on a plain metal track to open and close them. Either way, curtains can make a beautiful statement in your interiors and add that extra layer of interest to tie your scheme together. Custom-designed fabric blinds are another way to create a stylish look for your windows. Choose Romans or roller blinds and team them with pelmets, swags and tails or sheer curtains — or just use them alone. Trims and contrasting fabrics also make for a unique look; the design options are limited only by your imagination. Here are several window furnishing styles to consider in your home. Each has been custom-designed and made by experts at BQ Design, an Australian-owned and leading manufacturer of bespoke soft furnishings for the professional interior design and decorating industry. BQ's large production facility in Melbourne is state-of-the-art, with a team of highly trained experts committed to quality practices and continuous product improvement.
BLINDS, SHUTTERS AND SCREENS
As an alternative to fabric shades, timber, vinyl and specialist weaves create another dimension for window coverings offering privacy as well as that ever-needed solar protection. In today's "greener thinking" environment there is an increasing need for durable solar protection solutions that will help reduce energy consumption and deliver optimal levels of interior comfort. To protect the home from heat gain and glare, Mermet offers an extensive range of highquality sunscreen fabrics for blinds, an essential ally for eco-efficient buildings and especially useful for homes with large glass areas. Mermet's sunscreen fabrics offer clean, modern lines for window dressing that not only make a dramatic statement, but are also easy to maintain and will fit beautifully into any decorating scheme. All Mermet coated glass core yarn fabrics benefit from the new Enduris™ glass core quality label, guaranteeing their technical characteristics: mechanical resistance, dimensional stability and high-level durability, so you can be sure of a good-looking blind for years to come.
Vogue Shutters offers its customers the great look of plantation-style shutters. However, as Vogue shutters are made with a unique Polyresin compound, they do not come with the maintenance problems of traditional shutters. They are durable and will not blister, peel, flake, corrode or fade and will last many times longer than other materials. The shutters are two-dimensional, meaning the louvres can be fully opened or fully closed in both directions, providing infinite possibilities when it comes to the amount of light and heat allowed to enter your home. For example, in winter the louvres can be opened to let the sun's warmth into the home, saving on heating costs. Mermet Australia. Newport Custom Shutters and Blinds has a wide range of products to meet all decorating requirements. Products range from Australian-made first-quality timber shutters to Newport's synthetic shutter, which is not only environmentally friendly, but extremely durable. Following trends from the USA, Newport has recently added a new look to many of its products, as well as some new products. Colour is the key to the look of every room in the house, with subtle accessories sometimes making all the difference. Introducing the new LUXAFLEX® DUETTE® Shades Headrail for the EasyRise and ULTRAGLIDE® operating systems, with a fabric-covered valance which co-ordinates with your window covering for a modern look.