It is difficult to say what the owners of this now fine house enjoyed more: designing and renovating their home as a long-term project, or the social benefits this entailed.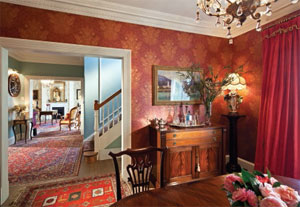 So much of the furniture and decorations from this home were found at Roy's Antiques that the family jokingly refers to their opulent home as Roy's "branch office"! When first seen (long before the renovation) the quality of the 1940s Georgian Revival house was evident, but while the bones were good, the interior was a terror. The rooms were gloomy, and dark rooms, and everything was the colour of porridge. Now the bright, convenient rooms are arranged so that there are long views through enfilades of rooms, giving a wonderful sense of space and freedom.
Decorating with antiques does not merely entail making the place look attractive and function efficiently, as would be the case with new furnishings. Antiques have two distinct features. First of all they are exactly what they seem: a chair for comfort, a vase for fresh flowers, a teapot for refreshment. However, they have an additional life as historical documents. A chair that belonged to Marie Antoinette may look similar to another of its kind, but its meaning and value are quite different. A 1912 vase may display a bouquet, but also speaks about the Titanic and the gilded Edwardian age recently illuminated in Downton Abbey. A Regency chair is redolent of Jane Austen and her heroines. To people familiar with history and antiques, any room furnished with antiques will have layers and shades of meaning far more complex than any interior of new furnishings could possibly supply.
This adventure was far from an isolated, private journey. Collecting antiques and art, and organising them into a comfortable habitat, is a profoundly social and convivial process. Riotous afternoon teas brought together friends who were well informed on the historical and cultural nuances of the antiques. Divergent opinions were expressed, encouragement given and arguments pursued.
This gaggle of friends also put the interior to its most exacting test. All parts of the house are used: nothing is kept for best or just for show. The company takes champagne in the drawing room, where each person is seated in comfort, with a tabletop and light source conveniently at hand. After that the group might progress through the panelled stair hall to the lush and cocooning dining room to dine sumptuously, chatting over the sparkling sterling silver and crystal. Georgian bowls overflow with plump fruit that is eaten with cheese. Coffee and tea might be served in the library in winter or the columned garden in summer.
The cosy library was originally a humble, squat, skillion-roofed addition. The low, horizontal proportions of Tudor rooms suggested the rich coffered plaster ceiling.
This is one of those happy instances when what initially appears to be a fault becomes a wonderful feature. The ceiling gives a sense of permanence and solidity, balancing the extensive use of glass, and the contrasting ceiling height is refreshing. Doors penetrating the interior wall were plastered over on the drawing room side. The door reveals on the library side were fitted with shelves for storage and covered with mirrored doors which reflect the garden. The windows give a view onto a sunken formal garden guarded by a pair of marble sphinxes and a towering obelisk. The enormous Georgian country house sofa provides down feather comfort for a secluded nap after a bout of energetic gardening.
The drawing room has also benefitted from a little architectural sleight of hand. The ceilings have been made to appear taller by the addition of vertical elements such as the pilasters. The windows in this room were stopped well below the ceiling line, so the space above the windows was mirrored and the window architraves extended to the ceiling. With the diaphanous curtains hung from the cornice line, the windows now appear to be tall and grand. The same artifice can be seen in the library above the mirrored doors. Cunning decorating can correct design defects in a room that would otherwise need expensive and messy building.
Starting with a base of a pair of fine 18th-Century ancestral portraits and a few other inherited or bought pieces, the rooms were gradually filled with fine Georgian furniture, exquisite porcelains, and many bronze sculptures that invite examination. These are the permanent parts of the rooms. The rare silver and tea things are brought out when needed. Each element contributes to the elegance of the rooms; there is always something interesting to look at.
Antiques are unique and automatically prevent the cookie-cutter banality evident in many homes. Each piece has its own story of times long past, as well as recent fond associations with relatives, friends and experiences. Hunting forays to favourite antiques shops and textile and wallpaper boutiques are delightful excursions, rather than essential chores.
It can take years of recreational shop scouring to find the perfect addition to one's home, but the journey is often filled with pleasure, excitement and anticipation. The result is a home that exactly expresses the family's aesthetic and cultural tastes; a comfortable, convenient home that is manifestly elegant, gracious and personal.
Project Particulars:
Built by: David Phillips Builder
26 Victoria Crescent, Mont Albert Vic 3127.
03 9898 6574
03 9898 1576
0408 569 090
David specialises in the restoration, renovation and additions of all period homes and has more than 38 years of experience. He has trained and worked on many National Trust buildings including Como House and Ripponlea.
Roys Antiques
410 Queens Parade, Clifton Hill, Victoria, 3068
www.roys-antiques.com.au
Landscaping: Simon Marks
Furniture: With few exceptions, all furniture from Roy's Antiques
Wallpaper: Zotta from Riddell Marly Interior Design, sourced by interior decorator Robert Thomson
Windows: Curtains made with fabrics from Ridelmans, Riddell Marly Interior Design, sourced by interior decorator Robert Thomson