This uniquely shaped pool is both functional and beautiful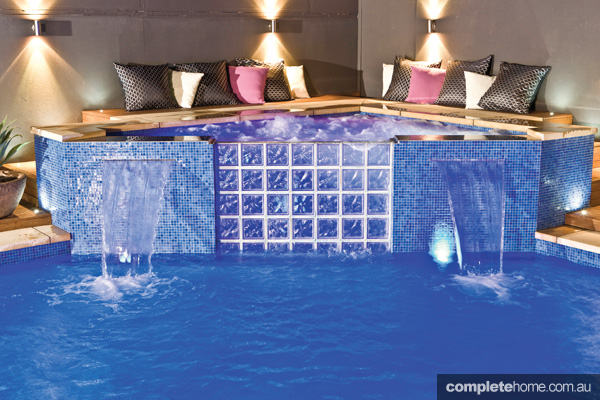 This stunning pool and spa combination from Freedom Pools & Spas sets the standard for quality and distinction. The featured pool was awarded the Judges Choice Pool of the Year Award for its innovative design at the 2015 SPASA SA Awards of Excellence.
Utilising the less traditional triangular-shaped block, Freedom Pools in collaboration with the owners developed a purpose-designed solution that is both functional and beautiful. What sets this design apart from similar pool and spa combinations is the raised spa with glass-block sides nestled into the corner of the backyard space. This clever placement accentuates the features of the spa, turning it into the focal point of the entire design. When lit up at night, the spa creates a majestic water feature, with water gently cascading over the sides and into the pool.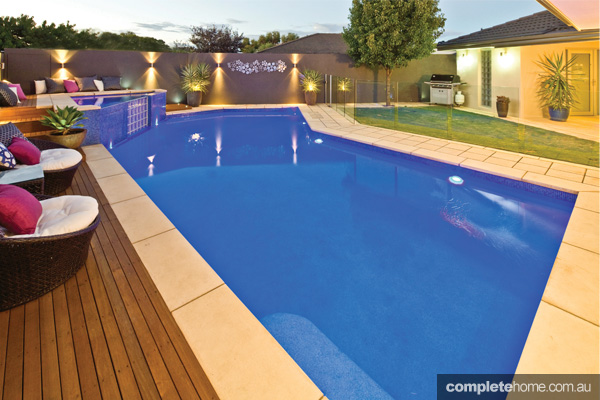 The design also incorporates a swatch of grass between the pool and home, further integrating the space and adding an element of nature. Frameless glass fencing runs along the front of the pool so that the visual splendour of the pool can be enjoyed at all times from within the home. Timber-decking steps provide easy access to the pool while a timber-decked lounge area on either side of the pool and to the rear of the spa offers swimmers a convenient spot to laze around on a sunny afternoon.
Having won such a prestigious award within the pool industry, Freedom Pools & Spas is proud of its endeavours and looks forward to continually setting the high standard of pools in Australia.
For more information
Freedom Pools
Address: 438 Marion Rd, Plympton Park SA 5038
Phone: 08 82646377
Mobile: 0419 857987
Email: freedomsa@freedompools.com
Website: freedompools.com
Originally in Poolside Showcase, no 23