A kitchen that is part of a rich history.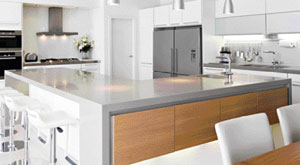 It may have started as a new space and a blank canvas, but this project from Davinci De signs Kitchens & Interiors is steeped in history. More than 125 years ago, kitchen innovator Friedemir Poggenpohl created a design philosophy and company that still sets the standard for excellence today. It was a reputation that impressed the owners of this new home and led them to the professional design and installation team at Davinci Designs Kitchens & Interiors.
This kitchen was designed by Darren Pollitt of Davinci Designs Kitchens & Interiors to be in keeping with the principles of Poggenpohl and was manufactured in Poggenpohl's home country, Germany. It boasts a unique L-shaped island bench that frames the room and conceals underbench cabinets. It provides multiple workstations and functions as a breakfast bar and servery. Veneer display cabinets along one side complement the chic waterfall edges of the Corian benchtop.
The island bench may set the tone for the space but it is the inclusions, such as the aluminium splashback and handles, that uphold it. Other assets of the kitchen are the environmentally friendly products used throughout — low-formaldehyde carcass material and solvent-free paints ensure its desirable style comes at a sustainable cost.
The overall effect is a stunning Poggenpohl kitchen that is both beautiful and functional and benefits from both the experience of the oldest and most awarded kitchen company in the world and the expert services of Davinci Design Kitchens & Interiors.
Project Particulars:
Designed by: Darren Pollitt
Installed by: Davinci Designs Kitchens & Interiors
Tel: 07 3367 8955
Website: www.davincidesigns.com.au
Benchtops: 80mm Corian with waterfall edges
Doors and panels: Poggenpohl melamine door with aluminium edging
Handles: Poggenpohl exclusive aluminium bar handles
Splashback: Poggenpohl aluminium with accessories and glass behind cooktop
Kickboards: Poggenpohl melamine
Internal hardware: Poggenpohl exclusive timber interiors and aluminium hardware