Capturing beautiful lake views, it seems this home was literally made for its idyllic waterside location — and that's because it was! Desiring an attractive, breezy residence worthy of its beach setting, the owners called on GJ Gardner Homes to build something truly spectacular.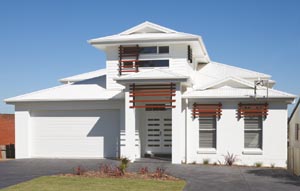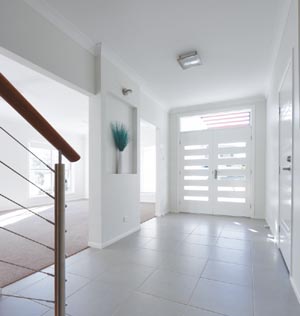 Drawing inspiration from the gorgeous setting, the talented design team delivered this stunning, one-off residence. Finished in fresh, white texture and featuring expansive louvred windows complete with decorative timber battens, this home was designed to blend with its glorious surroundings as well as attract the attention of visitors and passers-by.
The home has been brought to life via an innovative open-plan design that has been executed to perfection. Downstairs, a separate living and rumpus room functions as a great "kids' den" or "parents' retreat", while most of the action takes place upstairs.
A loft area comprising the kitchen and main living space — including a dining room — was added to accentuate the façade of the home and to take advantage of the stunning outlook, ensuring the owners are making the most of daylight hours. Multiple bedrooms are also situated upstairs.
Given the residence's casual appearance and atmosphere, you would never guess the GJ Gardner team actually had to overcome a few hitches during construction. Presented with a difficult, "tight" building site with an extreme fall on one side, the team took some time to plan a smart layout — making the land's shortcomings work in their favour by creating a design that would accommodate breathtaking views.
With the beach and lake just a short five-minute stroll down the road, the owners can relax on their generous alfresco deck at the rear of the dwelling and drink in the wonderful salty sea air while admiring their new home.