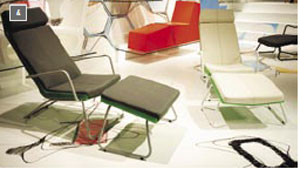 A pioneering entrepreneur, a radical designer and a proud father of four. A diverse description of the diverse man that is Arne Quinze, a Belgian designer and creator. Twenty years ago he lived on the streets; today he is the force behind one of Europe's top design firms
Story: Emil Sergel
DIVERSITY WITH A CAPITAL D is the distinguishing feature of this man's work. Arne Quinze designs furniture, trucks, shoes and a variety of other installations. The project in focus this spring is designing an entire hotel, and that is after recently designing a 50-metre houseboat. "I enjoy chaos. Organised chaos. I probably work differently to other designers. Compare it to the work of a chef if you will. A good chef would not want to cook the same food day in and day out. Progression and innovation are the keywords of my work," says Arne Quinze.
THE YEARS ON THE STREET
As a homeless 15-year-old, Arne lived a life in poverty, stealing food to survive the day. He channelled his unceasing creativity through graffiti art, spraying hundreds of train carriages and building façades. In the end he was taken in by a group of bikers and lived with them for a couple of years. "I learned how to survive there. But also that no one could take away my creativity. It is an incredible driving force." Eventually Arne got to the stage where the two-dimensional graffiti art was not satisfactory enough. His creativity turned into a three-dimensional skill and a drive to carry out projects that other people often consider hopeless. "I often get attracted to projects that have been rejected by other people for being too complicated or outright impossible," he says.
ESTABLISHING THE DESIGNER FIRM
In 1999 Arne Quinze started the designer firm Quinze & Milan together with Yves Milan. Without any education he threw himself into a branch he knew little about. The first collection presented went under the name Primary Pouf and was a success. It was regarded as pioneering and revolutionising in the industry. The combined seat-and-sideboard creation still sells more than 15,000 units a year. Despite this initial success, Arne still thinks of the first years as tough ones. "I had to work really hard the first few years since no one knew my name. I knew nothing about design and had to play my own game. After some time things started to come together and the hard work started to pay off. The snowball had started rolling."
MORE THAN A DESIGNER FIRM
Eight years later Quinze & Milan is more than just a designer firm. It is a creative outlet where synergy is the keyword. "There is a mix of designers, architects and creators working in this place which enables us to build whatever we design ourselves. New ideas and visions are realised and incorporated into the synergy through the co-operation between people with a variation of skills and capabilities. A large part of my work is to take part in other people's work. Many things are created as a result of human communication and the gathering of a lot of creative people." The proof that his visions have been realised is everywhere.
Even if it is in furniture design where he is most famous, Arne has many other types of projects behind him. Sitting installations for Seattle Library as well as beer and perfume bottles are part of his repertoire. Recently collaboration with the Japanese brand Onitsuka Tiger was initiated creating a collection with watches, handbags and shoes. "I am attracted to the dynamics that exist in complete collections," he says. His rock star reputation is not only derived from his many tattoos and a desire to break rules and push boundaries. In 2004 he designed Villa Tinto, a highly technological and hotly disputed brothel in Antwerp. Prostitution is illegal in Belgium but Villa Tinto is a so-called free zone set up as a trial for putting a new legislation in place. The many protests against Villa Tinto did not stop Arne Quinze. With the help of long interviews with the prostitutes, he designed what is now Europe's only high technology brothel with surveillance cameras, fingerprint identification and a number of different alarm systems.
ORGANISED CHAOS
Arne Quinze returns to talking about the organised chaos in his head. "I like pushing boundaries, both my own and others. Boundaries are there to be stretched. It is good to be aware about rules, so that they can be broken. Chaos is the stepping stone to ultimate freedom." He has never worked with a computer. Instead he works with his sketches and drawings in his notepad. It all starts somewhere deep inside his head and can be described as an organised chaos. This chaos in turn releases energy and creativity that eventually results in a creation. Through the establishment of his own brand name he has total control and freedom to create whatever he wants, especially now, when he can choose which projects to get involved with. "It is all about accepting a vision and a feeling and then going along with it. That is why I only get into projects where everything feels right. The communication with people I collaborate with has to be right. Only then can I express my creativity in the right way."
INSPIRED BY EVERYTHING
Travelling is a large part of his work. Arne spends around 160 nights a year at hotels around the world. There he gets inspired and visions are shaped into new projects. It is like going around smelling people in their different cultures, he says. "Everything inspires me: a nice breakfast, a good book, people on the street. That is where I get my inspiration, not from other designers. It is all about going your own way." People are central to Arne Quinze´s work. Design is often about solving difficulties that people come across in the most efficient and stylish way possible. "I am interested in people's lives. Sometimes I get the opportunity to take part in other people's lives and to influence their decisions. I appreciate honesty and authenticity: qualities that I work with in my own company as well.
The most important thing nevertheless is ambition. I cannot be bothered to invest time and energy in people who lack the desire to get things done. I mean, there are billions of people on this earth. There is no reason to waste time on someone who is not passionate enough about what they are doing." Another important part in Arne's work is trust. He has to be able to trust people's creativity and capabilities. "I trust my employees, and I expect them to trust me. I have never been disappointed, therefore I trust my vision." Arne Quinze claims that it is important to see the world with an open mind to let inspiration flow, particularly since there are so many things that inspire us that we are not even aware of. "I definitely believe that there is a type of energy without form and shape that influence our lives." A lot of his inspiration comes from books within the fantasy genre. Tolkien's Lord of the Rings is a huge source of inspiration and Arne says that this book is not only a book, but a part of his own existence and imagination, and therefore a part of his reality.
BURNING ART
The Burning Man festival is an annual event in the Nevada Desert. It is a gigantic festival where more than 40,000 people gather in the middle of the desert and build a small town. The festival is held to celebrate the creativity of mankind. In 2006 Arne Quinze put together an astounding project that went by the name Uchronia. It was a 15-metre tall installation that, with the help of more than 100 people took 24 days to build. The project turned into a huge intimate sphere of creativity where everyone involved contributed with their time and energy. The huge construction was meant to fill the spectator with a feeling of human creativity in order to re-envisage their existence.
The giant piece of art reflected the sunlight and was constantly transforming. When the installation was finished it was decided that it was going to be burnt. Several weeks work disappeared in just a few minutes. "It was difficult to burn something we had worked on for weeks, something that so many people had put their creative energy into. But when we finally set it on fire, what a feeling it was! It was amazing, it all just disappeared!" Uchronia was born out in the desert. It has become a creative project where Arne Quinze is one of the driving forces. Uchronia is now a platform for people to realise their future visions and share their creativity with others. It is a forum for people who want to bridge the gap between materialism and spiritualism and create a sustainable future centred on human creativity.
CONTINUOUS PROJECTS
Nowadays the problem is not to find work but to choose between the many options on offer. Arne Quinze has consistently around 25 projects ongoing and at the moment he is in the middle of building a hotel, a sculpture in Milan as well as a 50-metre houseboat. Through his continuous engagement in new challenging projects he is constantly breaking new ground. Out of chaos he creates new paths that lead to new challenges. He has several dream projects, and numerous visions just waiting to be realised including town planning, aeroplanes and other designs. "I want to solve the problems of the future." Short and sweet. To the point. It feels like talking to a true visionary who wants to realise his dreams. Finally, a difficult concluding question. Which project is he most proud of? "My children of course. They are my best product," he says, laughing. –CHD–
ARNE QUINZE
Age 36
Designer and visionary
Running the company Quinze & Milan
More info: www.quinzeandmilan.tv
Quick trivia
When were you born?
1 December 1971
Where?
Gent, Belgium
Where do you live today?
Kortrijk, Belgium
Are you married?
No, but I have been
Do you have any children?
Four lovely ones
Designer you admire?
Ron Arad
Last film you watched?
Last King of Scotland
Last book you read?
Perfume by Patrick Süskind
What are you doing in 10 years?
Same thing I am doing now, only better
Which is the most important thing you own?
My credit card