The time to prepare the deck for summer is looming, however there are many misconceptions around the best ways to maintain a timber deck. Tim Orbell from Sikkens Australia identifies common questions and provides solutions to ensure outdoor timber finishes and decks are in top condition for guests and outdoor entertaining this year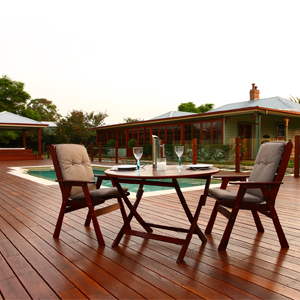 What are tannins?
New or un-seasoned hardwoods contain natural tannin that needs to be extracted prior to coating. Tannins are chemicals produced by plants to help protect them against insect attack and often appear as brown stains or commonly mistaken for timber coating that has been washed off by the rain.
The tannins can be naturally extracted by leaving the timber to weather between three to six months. If completing the deck in a shorter time, the weathering process can be accelerated in just a single day with Sikkens Cetol BL Tannin and Oil Remover.
Coating unseasoned timber results in the premature break down of the applied coating and within a short space of time will leave discolouration and staining under the coated surface.
Try before you buy
Grain and colour variations in timber make it difficult to predict how the timber coating will look once applied. Unlike paint, stains are influenced by the wood it is applied to, ensure testing the stain on an inconspicuous area or on a sample piece before committing to a colour.
Sikkens Sample Pots are an affordable and great way to test a stain for the best possible indication of how the finished project will look. The 100ml sample pots are available in ten ready mixed shades for decking and two colours for windows, doors, screens and cladding.
Importance of cleaning the deck
Ensure the timber is clean and free from dirt and grime to allow the new coating to properly penetrate and adhere to the timber for long lasting protection. Thoroughly clean with a product such as Sikkens Cetol BL Deck & Wood Cleaner that rejuvenates old and grey decking by drawing out dirt and grime.
When is it necessary to re-coat the deck?
Signs a deck may need to be recoated include peeling, flaking, discolouration, mould growth or greying of the timber surface. If the deck is in bad condition, it may be necessary to strip back and sand before applying a new coat. Any areas affected by mould or mildew must be treated properly before recoating, otherwise mould will continue to grow underneath the new coat and ultimately create an unappealing finish.
Sikkens products are available at all major hardware and independent paint stores.
Consumer enquiries: 1300 745 536 or www.sikkens.net.au