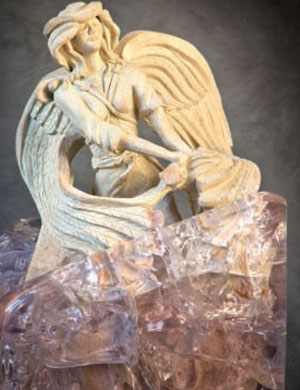 The launch of an innovative studio and gallery heralds a new era in outdoor art
Photography Patrick Redmond
For more than 20 years, Melbourne artist Graeme Foote has been producing exquisite custom-made fountains, architectural sculptures and garden art that can be found gracing homes and businesses Australia-wide.
In 1984, Graeme and his wife Angela set up Gargoyles & Dragons, with Graeme going on to establish himself as a successful architectural sculptor working in terracotta, stoneware and bronze. In 1998, the couple expanded the business, opening a new division called Surrey Sculpture Studio, where Graeme was principal sculptor. During this period, Graeme led a team of five artists sculpting one-off pieces and special commissions for local, national and overseas clients.
Having decided that the time was right to focus on producing his own works of ceramic sculpture and his career as a solo artist, Graeme and wife Angela embarked on the third and most exciting business venture of their careers — the launch of Hawthorn Studio & Gallery. Its doors were opened in November, 2009, as both a gallery space and a studio for Graeme, as artist in residence. Hawthorn Studio & Gallery will work in close collaboration with homeowners to ensure they choose the perfect piece — something that complements their landscape, lifestyle and personality. With their extensive experience in the creation of a diverse array of outdoor art and water features, Graeme and Angela can offer expert advice, whether you are a first-time buyer or an experienced collector.
All pieces are designed and made in the new studio in the Melbourne suburb of Hawthorn East and can be sent anywhere in Australia. If you would like to view a sample of the studio's work, you can pop into the display area attached to the studio, browse the website or ask that a CD be sent containing stunning photos of some of Graeme's most sought-after pieces.
While Graeme Foote is Hawthorn Studio & Gallery's resident artist, the business is dedicated to fostering emerging and mid-career artists. They do this by holding several exhibitions each year in their gallery space. For information on current and upcoming exhibitions, visit the website.
For more information visit www.hawthornstudiogallery.com.au or www.surreysculpture.com.au