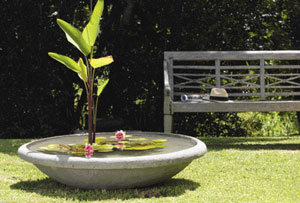 Add a point of interest to your outdoor room with a unique piece of garden art or decor
Words: Natalie Raad
With outdoor spaces today being designed as rooms, and furnishings once relegated to the indoors now finding a home outside, it seems only fitting that the same pieces of decor we use to embellish our homes should also be used to add character and charm to our outdoor spaces.
Garden art and decor are among the easiest ways to add a point of interest to your outdoor room. Be it a unique piece of art or sculpture, a mosaic or water feature, garden decor has the power to transform any outdoor space. Whether you want to dress up, revitalise or simply give your outdoor room a unique point of difference, garden art and decor have a lot to offer.
Garden art comes in a variety of materials and can take the form of sculptures, fountains, water features, arches, murals, paintings, wall plaques and so on. Garden decor can be anything from pots and planters to unique pieces of furniture — even decorative laser-cut metal gates and sculptural light fittings.
To bring a bit of individuality to outdoor rooms, many people are choosing to invest in unique pieces of art rather than mass-produced items. A stylish work of art in an outdoor room will make a bold statement about your personality and style. And the whole idea of garden art and decor is that people can add their own special touch to outdoor rooms.
Handmade pieces are good if you want to personalise your outdoor room as these tend to have a lot more emotion associated with them than their machine-made counterparts. Consider handmade pots, planters and water bowls, or handcrafted and individual sculptures to spruce up your outdoor room. Custom-designed pieces are also great if you have something particular in mind for your outdoor room.
For a statement piece of garden art, opt for a sculpture. Making a good focal point, indoors or out, sculpture is timeless and makes an ideal piece of garden art. Artistic and eye-catching, a sculpture can liven up any outdoor room and give it that unique point of difference. You can buy a sculpture or commission a piece to suit your outdoor room.
For the space-conscious, a wall-mounted plaque will make a huge impact and allow you to indulge your artistic flair without losing precious space. Perfect for balconies or patios, outdoor wall plaques come in a range of styles and materials, from modern metal with sleek lines to rustic, traditional and even playful or whimsical designs.
If you have a small outdoor room, place artworks in a far corner to draw the eye to the boundary line and visually extend the space. Uplighting at night will also help give the impression of added depth.
For larger outdoor rooms, artworks or sculptures can be placed in a more central position. However, no matter where the artwork is placed, what the viewer sees in the background is important. To ensure maximum impact, the background should complement the artwork, allowing it to be the focal point, as opposed to distracting from it.
To achieve a sense of cohesion and unity, stick to a theme with your garden art and decor pieces. Be it formal, rustic, cottage or contemporary, creating a theme will give your outdoor room more impact and a direction to follow. And the mantra of "less is more" should be adhered to when choosing decor for your outdoor room — one well-chosen piece will do a lot more for your outdoor room than a jumble of pieces all trying to compete for attention.
The most important thing to consider when it comes to garden art and decor is the material used. Will it withstand the elements? There's no point in investing in a fancy sculpture or fountain only to have it crumble or erode because of the sun and/or rain. It's best to choose marine-grade stainless steel, Cor-Ten steel, bronze, concrete or natural stone (if given a protective coat of sealant) as these are all materials that weather well.
Size is another consideration when investing in garden art. You need to keep a sense of scale, so think about whether the piece will dominate your outdoor room. It's best to choose pieces that are in proportion to your space, otherwise they'll feel too imposing.
Once you've chosen what piece of art or decor to include in your outdoor room, the next decision is where to place it. Location is very important when it comes to the placement of garden decor and this includes what you can see from inside your home. Strategically placed artworks will give outdoor rooms increased impact and will also enhance views from indoor rooms. Consider where you will be viewing your artwork from — positioning pieces so they can be seen through the window or open door of a house is just as important as locating them where they can be enjoyed from key vantage points outside.
Above all, adding pieces of garden art and decor to your outdoor room should be a fun experience. For maximum impact, get creative, be a bit daring and invest in good-quality pieces or one unique, stand-out piece that will keep rewarding you for years to come.
CHOOSING GARDEN DECOR
• Keep everything in context and choose pieces that complement the architectural style of your home and the landscape design of your outdoor room.
• Stick to a theme to give your outdoor room cohesion and unity.
• Follow the "less is more" rule — opt for a few "wow" pieces rather than a jumble of pieces.
• Size matters, as does scale. Choose pieces proportionate to the space you have — you don't want something that will dominate your outdoor room and feel imposing.
• Frame special pieces as you would indoor art. Consider a border or background of clipped hedges or a stone wall backdrop.
• Have some fun. Enjoy the process of transforming your outdoor room and giving it that special point of difference.