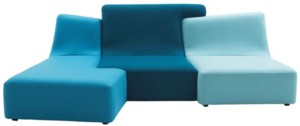 It is said that our childhood interests are ultimately a reflection of our career choices, and that is definitely the case for freelance French designer Philippe Nigro.
 "Quite early I was attracted to construction games and second-hand objects, and I liked to disassemble objects to understand what they were made of," explains Philippe. "I began study in arts and decorative arts because in France you have the possibility to be oriented quite early towards these kinds of studies and have an overview on those 'applied arts'." Enthralled by designed products and furniture, in particular objects that we are in direct contact with, Philippe was fascinated by the idea "that someone dedicated time and energy to think about everything that is designed in the world".
Along with patience, passion and hard work, his ability to understand the concept of design as a way to not only resolve functional needs but as a way to express messages is a contributing factor towards his success in the industry. Philippe's ingenuity regarding classification of style keeps his innovation fresh and open to experimentation. "I would not want to have too marked a signature because I think it is important to stay free about a style. Maybe we can speak about a 'period' or 'personal mood' that brings about a kind of aesthetic game, such as playing with forms and colours. I also like to play with the systems — mechanics, chromatics, plastics. For me they are fundamental to express important ideas that are the possibility of change, evolution and transformation of objects; the idea of movement."
Research and experimentation throughout the design process propels Philippe towards products that bring enjoyment to the final user and himself, as the creator. With a belief that the real trend in design is to create objects with longevity, Philippe suggests that we need to observe the changing ways of living, spending and working to discover what's vogue. His inspiration stems from observing existing objects in an attempt to improve and it is within the conception stage that Philippe attempts to generate eco-friendly products. In his experience, environmental benefits of a product depend on the work and the relationship between the designer and the industry. "I think we are going in the right direction, but there is a long way until we arrive at a good result," he says. One of his most recent works for Ligne Roset, the Confluence modular seating system, was born from the French VIA grant while observing the irregularities and asymmetries in nature and in the human being.
Explaining the sofa, Philippe said, "Putting together these observations was inspired by a few artistic movements that consider the concept of accumulations, repetition, the meeting of simple shapes to create a new one and playing with colour harmonies. I imagined this 'peace-maker sofa' as a dynamic central piece in an interior that tries to answer to different colour tastes, comfort attitudes and morphologies of users." Like previous designs before it, the benefit of this innovative and colourful seating system to the consumer provides the most satisfaction to Philippe and is arguably the reason for his success as a designer. "I love seeing the process in the birth of a project, from the sketch to the prototype, and the satisfaction to see your product used by someone," says Philippe. "I also love the ability to put emotion in the most quotidian of objects." Ligne Roset is available in Australia exclusively from Domo Collections. For more information, visit www.domo.com.au or www.philippenigro.com