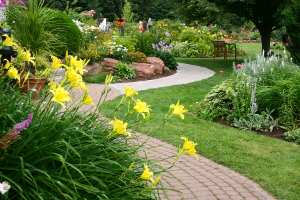 This appealing coastal garden relies heavily on native plants to make an impact
Story: Diane Norris
Photos: Alan Jones & Sidonie Carpenter
"As a horticulturalist and landscape designer who studied coastal management, I am generally concerned about the loss of our native coastal vegetation to development and palm trees," says Sidonie Carpenter of Sidonie Carpenter Landscape Designs. So who better to engage when a Queensland beachside getaway is in need of rejuvenation?
After living overseas for a number of years, the owners wanted a relatively low-maintenance garden that blended perfectly with their home's architecture and harmonised with the existing coastal landscape, one that would attract birds and be vitally Australian. Screening from the street, western sunlight and neighbours was also a priority, as was including a fun and practical open play space for their two young children.
The garden areas are divided into two distinct zones: the front west-facing portion, which is linked by the courtyard to the back east-facing garden, where there is a pool and access to the beach. The newly extended house is harmoniously clad in untreated hardwood that will weather and fade to a soft grey in time, giving a sense of "disappearing into the undergrowth" as the complementing native vegetation becomes established. It must also be mentioned that there is no soil; it's the second dune back from the beach and is pure sand. For these reasons, Sidonie was mindful and selective in her choices of indigenous plants.|
Dense plantings of coastal banksia (Banksia integrifolia), with their handsome co-ordinating grey trunks, will shield the house from the street and sun. Sustainability was not forgotten in this design, either. "Significant existing trees were retained and protected during this garden's transformation. Drifts of native grasses and shrubs were planted under the banksias for visual interest and movement through the garden. They act as a weed mat, a protective undergrowth and food for bird life," says Sidonie.
"Bush rock and river pebble was incorporated along the path to prevent soil erosion and to blend with the foliage as well as define the entry," she continues. "All beds are fitted with a fully automatic irrigation system and topped with either pebble or tea tree mulch to conserve water and prevent weed growth. Retaining walls, bedded with large gravel, create garden edges and reduce runoff and erosion from steep areas."
A sense of interest and entry was achieved with grass trees (Xanthorrhoea johnsonii) illuminated by low-voltage Lumascape spots, providing a dramatic visual element as well as giving safe night access along the path, which thoughtfully provides wheelchair passage to the driveway.
The courtyard acts as an external room linking living areas within the house. An advanced Banksia integrifolia is central in this paved room and has the essential herb garden planted underneath. A small pond is there, too.
More mass plantings of banksia are out the back to give privacy to the pool and upper deck, and the beachfront bush has been revitalised with Melaleuca, Casuarina and more banksia species. All in all, it's a conservation showcase and private native delight.
Amid this native garden is an open space. "An expanse of lawn linking the pool with the bedroom wing and beach access provides a play space for the two young children when the weather doesn't allow for beach cricket," explains Sidonie.
Sensibly, structural elements — such as the paths, pond, pool and walls — were completed by the builder during the house construction phase, which meant landscaping costs and times were on target. The owners are thrilled with the design and maturing garden and are now working again with Sidonie on their home garden in Brisbane.