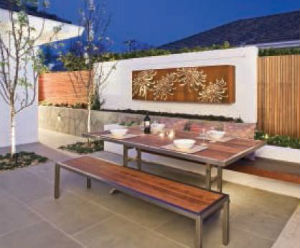 With careful planning and canny design you can achieve big things with a small outdoor room
Words: Natalie Raad
The key to making the most of a small outdoor room is in the planning and design of the space. Small outdoor rooms demand careful planning and by using the available space to your advantage, and working with rather than against the issues presented by a small space, you'll not only be able to use the space more efficiently, but you'll also be able to maximise the perception of space and, in turn, create the perfect outdoor room.
By manipulating the viewer's perception of space, small outdoor rooms can appear larger than they actually are. There are many ways in which you can make a small outdoor room appear more spacious. First, try to use the space for one purpose only. That way, you'll be able to fully utilise the area — be it an outdoor dining room, poolside pavilion or outdoor entertainment space — without feeling like the space is letting you down. Remember, a small outdoor room cannot be used for as many activities as a larger one, so choose your priority and plan for that alone.
Another way to make small outdoor rooms appear larger is by keeping it simple. Reduce the number of elements in the space, such as furniture, lighting and accessories, and don't be afraid of blank space. When it comes to furniture, space-efficient and low pieces are ideal. And remember, the elements don't need to be small themselves. One large accessory will have a greater impact than several smaller ones, which often look cluttered and in a small outdoor room — you can't afford to have the space look messy.
Another clever way to alter the perception of space in a small outdoor room is to include a strong focal point. This could be a magnificent view, a stunning stainless-steel sculpture or bamboo water feature. Not only will this piece anchor the space, it will also add to the interest of the area.
Using a theme to unify the space is another way in which you can make the most of a small outdoor room. For example, include all wicker furniture for a streamlined look or decorate all in the one shade for consistency and cohesion. By having a theme, a small outdoor room will present as one and appear larger than it actually is.
Given floor space is limited in a small outdoor room, remember to make use of vertical surfaces. You can attach a vine over a trellis, install a small waterspout on a wall or decorate with pieces of wall art for that added "wow" factor. Another good way to make use of vertical surfaces is with a green wall, which will add greenery to your outdoor room and connect the space with nature. Making the most of vertical surfaces will ensure your outdoor room is utilised to the best of its ability.
In addition to furnishing and decorating your small outdoor room so that it appears larger than it actually is, there are many other ways to make your small space appear larger. This altered perception is easy to achieve by applying certain design principles.
Transition is a useful tool when you want to create the illusion of space and depth.
One way to make a small space appear larger is by placing taller plants in the foreground and smaller ones beyond. This creates a visual shift and changes the perception of depth and distance in the garden.
Colour is another landscape tool you can use to your advantage in a small outdoor room. In addition to making an outdoor setting aesthetically pleasing, colour has a more valuable purpose when it comes to small spaces. Colour can impact on our perception of space and can make objects appear closer or further away. It all depends on what colours are used and where they are placed.
In a short space, using cool colours at the back and warm colours at the front will create a false perception that the cooler colour is further away than it actually is. Keeping colour variation at a minimum is key in a small outdoor room, so opt for a few different colours and use them wisely.
Although flooring is at a premium in small outdoor rooms, there are clever ways in which you can make the most of the available floor space and add to the perception of space and depth. For example, if you're using pavers opt for slightly smaller ones as this will make the area appear bigger than what it actually is.
Lighting is another element that should be taken into consideration when maximising space. This is particularly important if you intend to use your outdoor room for entertaining at night. Because of the size and minimal furnishings afforded small spaces, it's important to make your outdoor room cosy and inviting. A good way to do this is by avoiding football stadium lights and opting instead for soft, subtle lighting. This will create a more comfortable setting for your outdoor room and the ambience that results from soft lights is perfect for entertaining under the stars.
Another clever way to extend the space of your small outdoor room is by combining it with your indoor area. This concept of indoor-outdoor living enhances the size of both your outdoor room and interior space, and makes the area present as one. Soft lighting that flows out from the inside helps to achieve this seamless flow. As does connecting glass doors and similar flooring.
There are many ways to enhance the appeal of a small outdoor room. And by planning well and using your imagination, you'll be able to enjoy your small outdoor room in a big way.
DESIGN TIPS
Foliage: Opt for vertical, narrow foliage that allows plenty of light to filter through such as bamboos, grasses and strappy, erect foliage like flax.
Mirrors: When positioned correctly, mirrors can bring light into an outdoor room and reflect key points, making the space look bigger than it actually is.
Plants: Restrict the number of plant varieties and opt instead for a simple, flowing landscape in a single form to help promote the illusion of space.
Colour: Ensure paving, tiles, fences and walls are a lighter shade but not so bright that they are reflective.
Pavers and tiles: Use the largest possible format for pavers and tiles to reduce grout lines and simplify the ground plane.
Borders: Use a light-coloured border on the perimeter of paving, such as a border tile, a row of pebbles or gravel, or pale foliage on a border planting.
Seating: Bench seating is the best solution for tight areas; it won't intrude on the available space and it will soften the gradient in retaining walls.