This unique spa draws its inspiration from an old handcrafted European wine barrel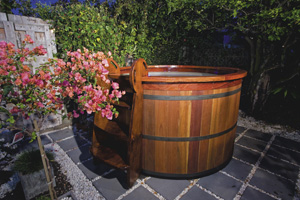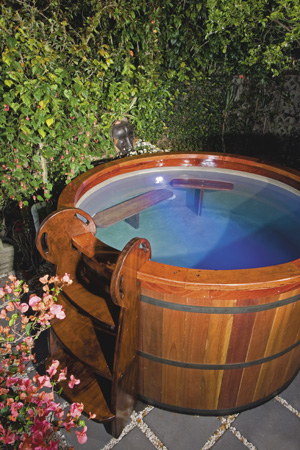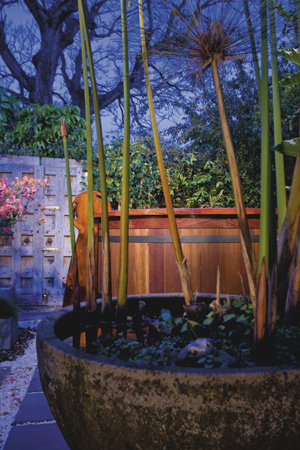 A unique creation by Majestic Pools & Landscapes, this standalone wine barrel spa proves what can be achieved in the hands of an innovative design team.
The inspiration came when Majestic Pools purchased a 180-year-old barrel which was originally made in Germany, where it was used to store beer, then wine. This barrel was one of 50 shipped by Penfolds to Queensland's Granite Belt wine country. Majestic Pools decided to make a one-of-a-kind sauna from that barrel, which then inspired the company to construct spas and plunge pools in the same format.
As wine barrels are no longer routinely used in wine production, Majestic purchased the correct profile timber to make its own spa. There wasn't a specific client in mind when they built this one — it was just a great idea for a design and they knew the right client would soon come along.
It took close to three months to replicate the look of the original wine barrel and turn it into an eight-person spa. Fitted with 12 jets, the spa is ideal for entertaining. It features curved timber seats, which are treated and waterproofed, and a polished timber rail where guests can place their drinks. And thanks to strategically placed LED lighting, the spa is both an inviting place to spend time during the evening hours well as a garden focal point at night — not unlike a
large water feature.
Nestled into a private corner of the garden, the spa is also the perfect place for unwinding after a hectic week. When relaxing in the spa, the owners can sit back and enjoy the tranquil surrounds: the potted plants, the perimeter planting, the wall art, all which work in harmony with the spa to create a one-of-a-kind outdoor living experience.
Majestic Pools, a multi-award-winning company, takes great pride in its design team, which specialises in full concept and custom outdoor designs. While the company specialises in the design and construction of concrete swimming pools, this stunning spa projects is a glowing example of the team's design diversity and construction expertise. Whether it's a new pool, spa, outdoor room or landscape you desire, Majestic Pools can tailor — and build — a design to suit your individual needs.