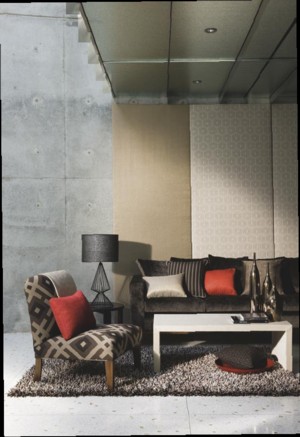 What are the future trends in decorating?
John Croft: The current trend for decorating is still very modern with clean lines — neutral interiors with natural stone, for example in floors/benchtops, with strong accents of colour with a neutral background. The return of the odd piece of traditional furniture or French provincial-style furniture mixed with modern furniture is moving back as a trend.
Karen Overton: Recycling old pieces and making them work in a modern environment.
Krystal Clarke: Having just returned from the 2009 Milan Furniture Fair, there were a number of interesting trends evident — round dining tables, a combination of ivory and black, a wide range of wall treatment options and the use of crocodile leather. It was also evident that there has definitely been a growth in transitional-style furniture. Transitional furniture encompasses contemporary, clean lines with a classic touch, such as with the use of timbers. Transitional furnishings have been the core focus of Sovereign Interiors even though we market both modern and traditional furniture.
Liana Lorenzato: Currently we are seeing a mix of geometrics, classic black and white and accents of purples and yellows. Reds are also becoming increasingly popular. At Designer Rugs we are in a unique position as we can custom colour and design rugs, hall runners and carpets. Therefore we don't usually follow a particular trend, but respond to demand and gaps in the market.
How do you think the economy has shifted the way we decorate our homes?
John Croft: The state of the economy hasn't affected the style and decoration of homes at this time, but I do feel the more extravagant look and the hard minimal look will be replaced with a softer, more warm and friendly feel using more natural products, for example natural wool, stone, linens, wool and flax etc.
Karen Overton: I feel it is becoming more important to reinvent pieces we would otherwise disregard, such as old dining chairs, lampshades and textiles.
Krystal Clarke: We have not found any dramatic shift due to the economy.
Liana Lorenzato: People are still investing into their home, possibly more than they used to. The difference now is they are taking longer to make purchasing decisions and are thinking longer term — how will the design look in five to 10 years.
What is your favourite decorating style?
John Croft: I do not have a favourite decorating style or theme. For myself personally I like them all. I like the traditional to the fresh, bright, open and quirky. For my clients, that is a different matter as it depends on their wants, their needs, likes and dislikes, lifestyle, personality and budget.
Karen Overton: While I don't necessarily have a favourite style, I do believe it is very important that your interior space reflects the person you are and the lifestyle you live. In my opinion, the best interior spaces are those that evoke emotion and sentiment. Styles will always change, so I think it is important for a designer to be aware of the current movements and adapt.
Krystal Clarke: When Sovereign Interiors was first established in 2001, we were very traditional in style, as is still evident in our logo. The market has become more contemporary as time has progressed and we are therefore more contemporary in our styling. The best way to describe our decorating style concept is as follows: "Modernism does not necessarily mean minimalism and contemporary design need not forsake tradition."
Liana Lorenzato: I like to mix it up — I would take elements from each style and create a unique one that suits my lifestyle and personality.
How do you feel home decorating has changed in recent years?
John Croft: In recent years outdoor living and dining have become integral parts of design and decoration. No longer is the outside treated like an afterthought; instead it is planned and decorated with the rest of the home and quite rightly so as we tend to do a lot of outdoor living owing to our great climate.
Karen Overton: I feel people are becoming more responsive to introducing colour and pattern into the home.
Krystal Clarke: In general, people seem to like the different textures that are on offer with regard to fabrics and wallpapers. The variety of wallpapers that are available are being well received by clients.
Why do you think designers, architects and homeowners now share an eco-conscious approach to decorating?
John Croft: In particular, architects and interior designers have become very eco-conscious with building products that are used. Our environment needs to be protected and the best way we can do that is by being aware of what products we are using every day, if they are sustainable or recycled. When selecting products we pay a lot of attention to using energy-efficient lighting and water-saving sanitary ware and tapware.
Karen Overton: This is a sensitive and current issue — so many people have an exceptional understanding of the products we specify and the effect they have on the environment. It is wonderful that designers, architects and homeowners share a common concern for the world we live in, and that suppliers and manufacturers are making eco-friendly products that are accessible and cost-effective.
Krystal Clarke: The realities of how we are destroying our planet are evident and therefore the adoption of an eco-conscious approach
is appropriate.
Liana Lorenzato: I believe this has become so important as we are realising that we can still have great design while acknowledging the impact we have on our environment. Designer Rugs has "Green Star"-rated products which are made with longevity in mind. And we are continually looking at ways to reduce our footprint.
What's one trend in decorating that will never change?
John Croft: For us at John Croft Design the one trend that will never change is our use of colour. The use of bold strong colour or a more subtle accent colour is determined by our client's personality and the project application.
Karen Overton: You can never go wrong with white walls, open spaces and an abundance of natural light.
Krystal Clarke: The use of colour and texture is always a never-ending trend.
Liana Lorenzato: Florals — whether it's for a home or commercial application, floral patterns work to bring the outdoors in. It also tends to soften harsh spaces. Selecting the right mix of colours will mean the design won't look too feminine either. Some of our most popular ranges all have florals in them.
If you could encourage homeowners to do more of something when they decorate, what would it be?
John Croft: To consider the scale of furniture and accessories used in their interior and their placement. To complete interiors with accessories and final touches that make a house a home. Advice from a professional interior designer can prevent costly mistakes and save valuable time.
Karen Overton: Trust themselves and the decisions they make. Do not be frightened of using colour.
Krystal Clarke: Homeowners should: 
- Give more consideration to the space planning of their home to better accommodate the furniture they want to place within their home. 
- Don't be scared to be dramatic in your choice of colour, wallpaper or even focal pieces
of furniture.