"The sea, once it casts its spell, holds one in its net of wonder forever." — Jacques Cousteau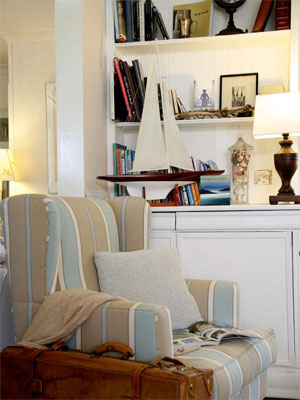 For those who live near the seaside, decorating with a beach theme may seem second nature, but you don't have to reside near the beach to give your home a "surf and sand" makeover. Just take a look at the beach next time you are there, or even at some photographs in magazines and you will notice the beautiful colours that you can incorporate into your décor.
It doesn't have to be every room in your home that undergoes this beachstyle treatment either. Nor does it have to be kitsch or completely over the top. A subtle beachside flavour is just enough to give your family that relaxed holiday feeling without them thinking they have been shipwrecked on a desert island.
Colour is key to this look. Painting a sandy colour on your walls can be a great backdrop to introduce this relaxed theme in your décor. You could then decorate the room with furnishings in your choice of the many blues, greens and aqua colours that are found reflected in the colour of the ocean. These colours are cooling and calming, and can help to relieve the stresses of the day while lighter colours in both timbers and fabrics keep it light and fresh with white-washed timbers and pine working well. Shells, starfish, cuttlefish bones, driftwood and beach pebbles can all be used to enhance the ambience of the room.
When the painting and furnishings are complete, you can add the smaller touches that will bring the room together such as a bowl of sea glass on a table or a large piece of driftwood hung on the wall. Walls could also be adorned with your own personal beach holiday snaps framed and displayed and vintage cinema posters from classic beach movies including South Pacific, Blue Hawaii, Big Wednesday or Gidget may also add to your beach décor.
A children's bedroom would be the perfect opportunity to decorate in a seaside style with quilts depicting pirates or an underwater scene. Bedside lamps designed as lighthouses fit in with the theme, as do shelves shaped as row boats standing upright. Circular picture frames resembling portholes could hold pictures of ships or islands, almost as though you were looking out at them. Mirrors can also be incorporated into round frames.
In the main rooms of the house, oars or a round lifesaver could be a focal point on a wall, particularly if they displayed the name of a boat or ship. If there's a fishing fanatic in the family, antique rods, reels, baskets and tackle boxes could be distributed through a living room. Or they could be set on a small table in one corner of the room with great piece of art behind them as a focal point.
Verandahs also lend themselves to beach decorating well and, with a few bits and pieces, you could almost fool yourself you're on holiday every day. Seats in the style of deckchairs could be used in place of regular benches to give that instant beach feel. An old metal beach bucket could hold ice and drinks in summer and elements such as a ship's bell or anchor emblems could also be added just for fun. Sourcing pieces for your seaside decorating doesn't have to be expensive and can usually be achieved at secondhand stores or garage sales fairly cheaply. However, if you are after a more valuable and specific item such as an antique diving helmet you may have to search antique stores or the internet to get exactly what you are looking for. Many reproduction shops also sell vintage-style nautical items that may suit your colour scheme, but choose carefully as one fabulous item is better than a whole batch of smaller items.
The secret is not to go overboard with your accessories. Keep things on the tasteful rather than tacky end of the scale with subtle accessories and your room will be a haven.