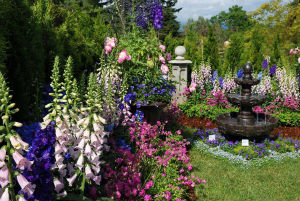 How to create a tropical Balinese retreat at your own back door

Bali House & Garden has everything you need to create a Balinese retreat in your own backyard: stone statues, water features, pebbles, tiles, pavers, outdoor lighting, wall lamps, stone plinths, indoor and outdoor furniture as well as artwork. And then there's the wall hangings, bamboo matting, umbrellas, flags, kites, wind chimes, screen dividers, table runners, mosaic and terracotta pots, bedding and silk cushions to sit on your daybed.
To complete the picture, of course, you need a Balinese gazebo — examples of which are on display, along with the extensive range of garden décor and homewares, at the Bali & Garden showroom in the outer-Sydney suburb of Ingleburn.
If you need some help creating your dream garden — right down to some inspiring advice on planting — speak to co-owner of Bali House & Garden, Coleen Biondich, who regularly travels to Bali.
"During my last trip, I took particular notice, as well as plenty of photos, of Balinese gardens and their artistic planting schemes," says Coleen. "One of my favourite approaches is to create a round garden. You plant palms in the centre — my favourite is the traveller's palm — then you plant medium-sized, tropical-style plants such as cordyline or New Zealand flax. Around the border, place small plants, for example, mondo grass.
"You can also draw inspiration from the resorts in Bali where the gardens are full of beautiful Balinese statues and water features. No wonder it's easy to become addicted to the 'Island of the Gods'.
"Today, most Australians prefer the outdoors," continues Coleen, "and we can help you to create a resort-style retreat in your backyard that will bring colour and tranquillity, so call in and see for yourself how the Balinese create all their products by hand, giving you a unique piece to take home to your private resort."
Bali House & Garden is open seven days a week and is very easy to find — it's just a one-minute drive once you take the Ingleburn exit off the M5.
BALI HOUSE & GARDEN
Corner Williamson and Stennet Roads
Ingleburn NSW 2565 
Tel: (02) 9618 1146
Email: sales@balihousegarden.com.au
Website: www.balihousegarden.com.au