Meet the man behind some of the more luxurious homes in Australia .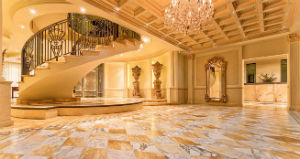 As far back as he can remember, Michael Chard's childhood was fuelled with creativity, landscaping his parents' garden and sketching designs. "I practised the use of balance and symmetry in my drawings and gardens before I could explain or understood why it was necessary," says Michael. "I enjoyed being in my element, imagining and creating. Living on an outback farm, nature was always around me; it was very inspiring and today I am thankful for this upbringing as it has allowed me to mature with a clear direction of thought and an uncompromising passion to excel at whatever I have desired to experience so far in life."
There is no doubt it was this raw experience of design that led him to be one of the most influential people in luxury home design today; the creative director of the Palazzo Design Group, the project division for Versace Home in Australia. "We now have available nationally an exclusive interior design service. This 'Atelier' service offers the client consultancy and advice on simple matters such as fabric and furniture selections, as well as a more complex role designing a complete interior or luxury villa." In his role as the design director, Michael personally oversees all design and creative elements and works closely with his clients while designing their luxury residential projects, from material selections and applications to the installation and final placement of furnishings and accessories.
These customised homes originate from highly skilled handwork and boast precious materials throughout, so as you can imagine, they are a sight to behold; these interiors completely take your breath away. Those who work on the projects have been sourced for their expertise in their trade and ensure that even the most minute detail is kept to the absolute highest standard. In Australia this is even more difficult, with "specific craftspeople becoming a rare breed", says Michael. "Attention to detail is paramount as some interior elements require many craftsmen, or it may have many processes to see it to completion," says Michael. "The designs we create are often unique to one client and not repeated in the same way for anyone else.
"We may customise up to 90 per cent of an entire luxury residential project. Primarily our design detail is European based and specifically Italian." Michael tells us that most pieces are custom designed in Italy and although the process of creating a Palazzo-designed home is never a quick one, it is most definitely worth the wait," Michael is constantly inspired by Europe and its history, including the French and Italian topiary period of garden sculpture and Roman and Greek architecture, with Greek mythology also used heavily in the Versace collections. "Fashion is also very important to me as I draw on elements. It is these elements that play a role in the interiors of tomorrow," he adds. "The world of Versace is very exciting," Michael continues. The Maison recently launched a luxury aircraft collaboration with TAG and a luxury helicopter collaboration with Augusta Westland. Clients may order a private jet or helicopter custom designed and fitted in the Versace Home collection. Branded luxury is at the forefront worldwide, Michael tells us, and Versace is consistently leading, introducing its first luxury private apartments in Panama. Palazzo Versace in Dubai, the second of the line of luxury hotels worldwide is currently under construction. Michael will also be attending the annual Versace event viewing and selecting the 2010 Versace Home collection at this year's Salone de Mobile in Milan. Some of his predictions for 2010 are black and white, with metallics in primarily golds and silvers. "You will see an increased interplay of the modern and the classic in materials, colours and furnishings."
The interplay of modern and classic is Michael's personal style. He is fortunate to count some original Gianni Versace pieces as his own. "I very much enjoy these particular collectables as they remind me of the respect and admiration I will always feel as Gianni was a style icon" he says. Michael's life is diverse and creative, and through his passion and experience he has developed his own distinct style that is now evident in all luxury Palazzo creations, with this he continues to reinvent his style into the future of luxury design.
Michael sums up his approach to design perfectly when he says, "To say 'break the rules' is archaic. There are no rules, however balance is key. Not just in design, but with everything in life!"
For more information on Palazzo Design Group, a project divison for Versace Home, contact 02 9550 2885 or email info@palazzodeigngroup.com