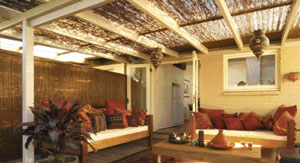 Whether you're in search of shade or privacy, natural textures are the answer
Regardless of our budget, we all seek an outdoor space that is private, harmonious in feeling and essentially complete — somewhere we can relax, be ourselves and feel totally free. To create the desired ambience, we need to provide the essentials: shelter and shade, privacy screening, natural textures, colour and foliage.
For most, this means an extension to the home where a pergola-style space or covered deck provides a permanent area where young children can play in a protected but fresh-air environment or adults can chat, entertain, relax or read. For others, the area will be at the end of the garden or around a pool, where a new shade structure can be built separately.
House of Bamboo® has assisted many to create the right space — something that suits their lifestyle, the design of their house and garden, and their budget. The first priority is to get the privacy screening and shading right. Privacy is often obtained by adding height to a side fence or using high internal screening. Natureed® or quality bamboo fencing products are ideal for this purpose, giving the space the kind of ambience only natural textures can create. Whether it is a patio privacy screen or cladding for a full-length perimeter fence, natural materials are ideal.
Of course, these materials are also perfect for overhead shading, creating a canopy of natural texture and filtered light. Many use Natureed® to clad the underside of polycarbonate roofing, which cools the roofing while enabling the space to stay waterproof so it can be used all-year round. It also hides any accumulated deposits above the roofing. House of Bamboo also has unique and practical moveable shade structures, which can be used in any part of the garden, around a pool or attached to walls.
Finally, the furniture we choose is a vital key to creating a relaxing environment and the comfort we need. House of Bamboo has highly practical outdoor deck furniture that's very comfortable, unique in its design and requires very little maintenance. If you are seeking functional and imaginative solutions for your outdoor space, consult the staff at House of Bamboo.
For more information
House of Bamboo 13 Erith Street, Botany NSW 2019 Phone (02) 9666 5703 Email info@houseofbamboo.com.au Website www.houseofbamboo.com.au