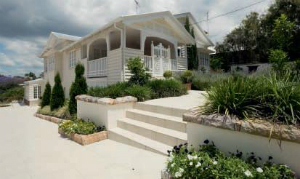 An English-style garden for a character-filled, newly renovated Brisbane home

By Aaron Worth

Photography Glenn Weiss
They say first impressions are lasting impressions and this is absolutely the case when talking about homes and, more specifically, their front gardens. There is often a very limited opportunity to create that amazing first impression and it must be crafted carefully and succinctly.
This post-war home in the inner northern Brisbane suburb of Windsor had undergone an extensive renovation and the architect had been very careful to preserve, if not enhance, the character of the building — especially the detail that was contained on the front façade. The owners were very sensitive to the fact that the entry and the landscape had to support the home, so they asked me to assist.
The brief was short: the garden had to contain roses and, of course, suit the home. This was ideal as the house is perfectly suited to the traditional English-style garden. The key to designing this garden was the creation of a front fence that would be interesting and create a pleasant introduction, but not compete with the garden or home. On entry, a path leads straight to the front door but goes past a courtyard garden that is simple in design but no less intriguing because of its simplicity.
Front fences perform several roles and in this case it was to provide security, convenience and a neat first impression. Rendered block piers and retaining walls at the base with an off-white painted finish were used to keep the fence neutral and provide consistency with the house, while the handmade sandstone pier and wall caps provide character. The powder-coated steel fence panels, pedestrian gate and sliding automatic gate complete the look. The relative transparency and low height of the fence are what allow the house to take centre stage.
The courtyard garden is designed to create a pleasant visual effect from the tiled entryway. A sandstone-edged gravel path leads to the garden wall, which is constructed of rendered block and sandstone capping to provide a link to the front fence. Black and tan clay brick piers were an addition to the house and have been used to add a feature element to the wall. The garden wall frames the vista and the water feature, which is a large urn mounted on a sandstone plinth.
A personal assortment of roses selected by the owner, lavenders and gardenias provide an abundance of scented colour, while conifers and topiaries provide structure and formality to match the symmetrical lines of the garden. Well-placed lighting gives the landscape a new personality after dark.
Although the garden is small, it now serves as a very practical and fitting introduction to a house that's full of character.