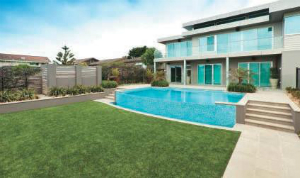 Looking for a lawn alternative that requires less work? Consider artificial grass.
By Rachel Falzon
Lawn mowing — it's one of those chores you just can't ignore, particularly in summer when rain combined with sunshine equals turbo growing speeds. And if the lawn's not growing faster than you can keep up with cutting it, it can be subjected to drying out, damaging beetles and weeds. Then there's the matter of keeping it aerated and watering it when necessary. It's little wonder more and more people are turning to low-maintenance artificial grass to keep their gardens — whether residential or commercial — green all year round.
"People are concerned about water conservation, which makes lawn maintenance more difficult," says Robert Legg of Barefoot Grass. "Synthetic turf means no watering, no mowing and no weeding, so it's an eco-friendly alternative and a low-maintenance solution. Also, synthetic turf can take an unused or unusable part of your yard and turn it into a lush, visually pleasing area that you can enjoy and the kids will play on."
Adds Robert: "Today's artificial grass has a soft feel, durability, UV resistance and contrasting colours with a life-like look. People have to bend down and touch it to see if it's real."
Bill Rorke, founder of Pro-tech Corp, agrees, adding the popularity of artificial grass is definitely on the increase. "People are now accepting it more and more as a real alternative to natural grass," he says, and attributes much of this success to the better look of the modern-day products available.
"Artificial grass has evolved from fibrillated yarns to mono-filament yarns — premium products have different tones, which makes them look more natural," he explains. "Now they also come with a finer thatch yarn, which is a curly yarn that gives it more body than past products had."
Little work, big rewards
Artificial grass can be used virtually anywhere. Whether you are looking into it for your home or a commercial application, it offers a fabulous benefit: little maintenance.
In today's warm climate and with rainwater sparse or inconsistent in many regions — not to mention the increasing cost of this most precious of commodities — people are looking to cut back on their use of water as much as possible. Some look to artificial grass as a solution. If left to its own devices, natural grass will change its look throughout the season — tending toward brown in winter as it dries out and then burnt if touched by frost in winter. However, artificial grass will stay looking green and lush all year round with little effort on your part. Plus, you can head off on holidays without worry that you'll come back to a jungle.
Contemporary artificial grass products have a long life span, lasting anywhere between 10 and 20 years, so you can rest assured it won't need replacing any time soon after installation.
At home, you can use it anywhere you would normally consider natural grass: around the swimming pool (in fact, you can go right up to the edge), in the front or back garden as well as balconies. Use it anywhere that you find growing grass difficult — perhaps there's an area at home where a large tree that provides coveted shade has the downside of being detrimental to grass growth. Or maybe you have a small, inner-city courtyard and dragging the mower out for a tiny area just doesn't seem practical.
Says Robert: "We find people use it for large areas requiring high maintenance and for small areas such as unit backyards, balconies and rooftop gardens. Also, high traffic areas such as access pathways and pet traffic areas that lead to worn, compacted surfaces. These areas can all become uninviting and unused but with synthetic turf you can win back these spaces."
Rooftop gardens — a trend unto themselves — will find much benefit from installing artificial grass. Not only can it be difficult to find a natural grass product that can withstand the harsh conditions this environment is subjected to — think harsh sun and billowing winds, perhaps even salty air — but taking care of a rooftop garden, particularly watering, can be problematic as there's not usually a tap installed in these areas. Tracking through the house with a full watering can may not appeal. "My company has provided artificial grass to a lot of rooftop gardens," says Bill. "They usually can't grow grass but want a natural look. Artificial grass can provide a soft surface against the harshness of paving and concrete."
Installation is easy
Installing artificial grass is a relatively easy process — in fact, if you're a handy person you should be able to do it yourself by following the manufacturer's instructions. Laying the product is similar to laying carpet, as it can be cut to fit an area precisely.
"The product can definitely be installed by a homeowner," says Robert. "If doing so, speak with the supplier to learn the finer details that will give you a better result at the end. Preparation is vital for a good result, as is the right drainage. What you want is a good base so edges and joins are neat and remain in position."
If, however, you don't want to do the job yourself, you have a very large or uneven area to cover or there will be a lot of awkward joins involved, a qualified installer is your best option. They will be able to make the surface appear flat and ensure all pieces are correctly aligned and the joins are immaculate and neat.
Once it's laid, taking care of your new "lawn" is virtually effortless. Of course, you won't need to water or mow it, but there will be times when you need to tend to it to ensure it's looking its absolute best. To clean it, remove any debris, such as twigs, sticks and leaves; to do this, simply sweep the debris off with a stiff broom. Brushing the grass against its grain will bring it back to its original look. And, if someone walks over it with muddy feet, don't despair — just hose it down.
If you have installed the grass in a place that's susceptible to mould, Bill recommends washing it with a mould-cleaning agent or some white vinegar then wash it down with a high-pressure hose. "It's all cleanable," he says.
"And, once modern long-strand products have been infilled, typically they never need to be refilled," says Bill.

Decisions, decisions
If you've decided to use artificial grass in your next project, Bill says it's important to do some research on the company you're going to use. "Make sure you deal with a reputable company," says Bill. "Choose someone who has been in the industry for a while and be careful to choose an Australian-made product or quality imported product. Be wary of lead-based yarns from overseas — you could be putting down an inferior or illegal product."
Colour, texture and blade length all vary from product to product. You can also choose what type of infill you want — the choice is between rubber granules and sand. Opt for a product with good UV protection to inhibit fading due to sunlight.
Choose something that drains well so you won't have a puddle in the middle of your lawn. Drainage is particularly important and good-quality products will drain rainwater and pet urine through to the earth below. Find something that will bounce right back after children or pets have romped around on it to lessen maintenance, too.
"Product selection is also guided by purpose," points out Robert. "A lounging lawn and barefooted play areas require a soft-feel turf. These can be done in varying lengths (pile height) and a variety of colour combinations. Recommended landscaping pile height is 40mm. Landscaping and sports turfs can be used separately or in combination. Short tuft options for ball playing such as putting greens and even basketball keys can be laid with landscaping synthetic lawn products surrounding them."
As with all products you're investing a significant amount in, it's best to opt for a product with a long warranty. Most come with a seven- to 10-year warranty.
With the growing popularity and increased aesthetics of this outdoor product, it's not just homeowners but landscapers and designers that are using it, too.