When it comes to purchasing bed linen there are a number of things to consider.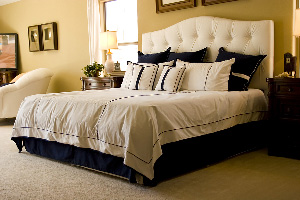 Easing yourself into a bed made with clean, crisp sheets at the end of a long day is one of life's simple pleasures, but if you're trying to update your bedroom and don't know your sateen from your percale, or you're confused over thread counts, our need-to-know guide to buying bed linen is just what you need.
Size
It sounds obvious, but make sure that your mattress is a standard size. Standard Australia sizing is as follows: single 92cm x 187cm, king single 106cm x 203cm, double 137cm x 187cm, queen 153cm x 203cm and king 183cm x 203cm. Always measure the depth of your mattress too (the standard fitted sheet depth is 35cm – 38cm), as these days most consumers are opting for luxury mattresses with pillow-tops, therapeutic-tops and more, which add onto the depth; for these deeper mattresses, you can look to Super (40cm depth) and Mega (50cm depth) sizes.
Fabric:
From silk to poly-cotton blends and everything in between, it seems as though the options are endless when it comes to choosing what fabric your linen is made of. 
Cotton – Cotton is cool and comfortable against the skin. It's easy to launder, versatile and affordable. 
Cotton Percale – With a crisp, luxurious feel, cotton percale is lightweight, cool and, with proper care, will last for years. 
Cotton Sateen – A special weaving technique gives cotton sateen a fabulous sheen. It's also softer and smoother than regular cotton or percale, but it costs considerably more. 
Egyptian Cotton – Egyptian cotton is generally considered the high end bedding material. Though it's durable and easy to care for, it also costs a lot more than plain cotton linen. 
Supima Cotton – Supima is an American cotton, and is considered the best cotton in the world. Unlike Egyptian, Supima can only be sold and be labelled as such if the product is 100% supima (whereas Egyptian can be a blend of cottons). It is also the longest thread, therefore thicker, stronger, and softer. 
Linen – Heavier and more textured than cotton, linen drapes beautifully and feels cosy and snug at night. It is also very durable and should last for years with proper care. 
Silk – Silk bed linen is usually accompanied by a hefty price tag. It feels glorious next to the skin, but requires gentle care. 
Bamboo – Bamboo is eco-friendly and suitable for those who suffer from allergies. It is thermal regulating so you'll be cool in summer and warm in winter. 
Poly-cotton – Poly-cotton blends are an affordable and low maintenance alternative to pure cotton. They don't crease, dry quickly and don't need ironing.
Thread Count:
Thread counts vary from 80 to around 1000, with most shops selling linen with a thread count between 150 and 400. It simply refers to the number of fibres woven into a square inch of material. It should follow that the higher the thread count, the better the quality of your linen, but not all threads are created equal. For more details, read the section on ply below, but basically the general rule is that price point and quality usually correspond. 
Ply:
Ply refers to the number of individual yarns wrapped together to make a single thread. Single-ply fabrics use threads made from one yarn, while two-play fabrics are created using two yarns twisted together to make one thread. Fabric that is two-ply or more is heavier, stronger and more durable than sing-ply fabric. The trade-off is that the fabric may not have the soft, silky feel of a high-thread count, single-ply sheet.
When shopping for bedlinen, always request to feel the sheets out of their packaging and check the returns policy. And take these factors into consideration when buying bed linen so you can rest easy and enjoy a good night's sleep.