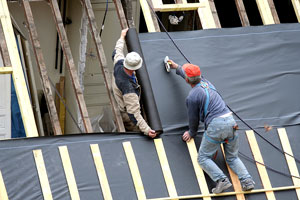 Re-roofing made easy with a roofing specialist
Professional and experienced, CSR Roofing specialists only use Monier and Wunderlich roof tiles, providing the complete roofing solution. CSR Roofing can offer advice on choosing the right colour and profile that will suit your home, and talk you through the process so you're comfortable and confident that your new roof will look and perform as expected.
Additionally, all work is guaranteed, and Monier and Wunderlich roof tiles come with a 50-year performance guarantee — no other roofing material can offer such an assurance. Re-roofing can take two to four days to complete, depending on the size of the roof. There are a number of reasons why you would consider re-roofing.
From a functional perspective, your roof may need renewing because:
• Leaking can cause damage to the roof structure and might be the cause of mould on the ceiling in your living space.
• There may be broken and cracked tiles and pointing.
• You want to be sure in the knowledge that your roof performs as it's supposed to — protecting you, your family and your greatest asset.
From an aesthetic perspective, your roof may need renewing because:
• A good roof adds value for resale.
• It can change the look of your home as part of a complete makeover.
• Roofing makes up about 30 per cent of your home's facade, so it has a major bearing on the overall look of your home.
1. SAFETY RAIL: Safety is a priority. Before commencing any work, your CSR Roofing Specialist will arrange for guard rail to be installed around the perimeter of the home to prevent roof tilers from falling and to keep your family safe. [Guard rail 006 or 012]
2. REMOVE OLD TILES: Next step is to remove the old roof tiles and ridge. [old roof 029]
3. INSPECT ROOF: The next stage requires an inspection of the roof timbers to make sure the battens are sound. [battens 006]
4. INSTALL SARKING: There are a number of reasons why you would install sarking. It provides insulation, reflecting up to 90 per cent of radiant heat entering the roof, acts as a secondary weather-proof membrane, keeps dust out of the roof and in bushfire zones minimises the chance of embers entering the roof space. [sarking 006]
5. INSTALL NEW BATTENS: Ready for the new tiles to be laid. [sarking 018]
6. LOAD UP THE NEW TILES: New roof tiles are sent up the roof using a conveyer system. [old roof 016 and new tiles 011]
7. START LAYING THE NEW TILES: Tiles are laid sequentially up the roof from the gutter line, with fixing clips or nails used to secure tiles. [new tiles 010]
8. RIDGE TILES INSTALLED: Bedded in place using mortar.[new tiles 002]
9. POINTING: This is a flexible material that covers the mortar. It comes in a colour that matches the tile and acts as a mechanical fastener. It's also used to finish the tiles at the edge of the roof. [finishing 010]
10. FINISH: Remove the rail, tidy up the site and remove any leftover tiles. [image after Bimmbadeen – probably crop the image to get a close up view of the roof and finishing 016]
For Further Information:
To contact your local CSR Roofing Specialist, call 1800 000 873.