In these challenging economic times, decorating the bathroom can seem like an unattainable task.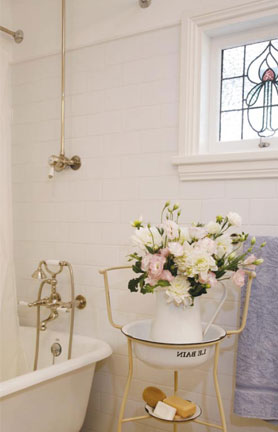 After all, this is one of the "big ticket" rooms on the decorating scale. But even with a very modest budget, a comfortable elegance can be achieved. Look to the French country farmhouse for inspiration and you can bring together a room with warmth, character and no small amount of style.
While we may define "chic" as being original and in good taste and "casual" as coming to pass without planning or design, creating a casually chic bathroom is not quite that easy. Not that it is a terribly difficult task either but it does take a little forethought.
If we think about what we are trying to achieve, a comfortable, useable space in keeping with the relaxed lifestyle we long for, then certain elements come instantly to mind: warmth, texture, a neutral palette, age and a degree of imperfection. This is a mood that the French do exceedingly well. They know that the secret is to balance all of these humble ingredients with a touch of luxury, to give contrast and to stop the room from tipping over into "dowdy".
To pull this look off you need to combine the classic elegance of old-world style with our relaxed way of modern living; to leave behind airs and graces and instead instil the room with a relaxed sophistication that transcends the current quest for glitz. The sophistication of these bathrooms comes from the few luxury items used to dress the room; the owner's favourite quality perfume and the softness of the bath towels.
One of the tools the French utilise so well in this casual style of decorating is to create contrasts in the room. They juxtapose sleek surfaces with soft lighting, hard stone with cool chrome, aged enamelware with shiny new tap ware, and timber with tiles.
By gathering character-filled items and playing up (rather than hiding) flaws you can reveal a unique atmosphere, making your bathroom exclusively your design. A distinctive bathroom is really the epitome of decorating, as so many bathrooms look exactly and blandly the same. That's not to say you need to go so far as to make your bathroom so unusual that it would turn away buyers, should you need to sell. It's simply a matter of distancing ourselves from the basics of bathroom design by what we add to the room and what we leave out.
Steering clear of the completely tiled bathroom will give your room more appeal than most. While we would all love to be blessed with charm-filled stone walls that don't need covering with tiles, this is the exception rather than the rule. However, tiles are not our only option. Wainscoting, panelling or metal wall treatments will instantly add an element of aged atmosphere to your bathroom.
Working with what you've got is where this casual style of decorating gets its roots and this is vital if you are working with a small budget and large aspirations. When it comes to tub and basin, keep what you have, if at all possible. If your pink, blue or mauve suite is in great nick and the shape and size you like, consider having them re-enamelled to a more classic white or cream. Or if your old cast-iron tub is in good condition on the inside but you want to give your room a new look, give the outside a new colour treatment.
If the vanity in your bathroom is more modern than you would like, look for ways to give it character rather than replacing it. The old adage of make-do, re-use or recycle is one that not only sits well with the casual style of decorating and our bank balances but may be the saving grace of future generations. But that's another story.
The combination of texture and comfort, age and practicality, can give a casual bathroom a warmth that its more modern, sleek counterparts lack. In pulling together this relaxed way of decorating, it is important to include some very basic, natural almost rustic elements. Stone is perfect, if available as a wall treatment or flooring; timber is an alternative. It can also be introduced through small accessories such as a big natural sea sponges or a jar of loofahs; through hand-milled soaps en masse or some sizeable sea shells. Flowers, too, add natural appeal and are a way to bring colour to your subtle palette.
Again, to make these natural elements more interesting, set them amongst their antithesis. Contrast that sea sponge with a crystal perfume bottle; those sea shells with some imported body lotion; sparkly leadlight windows with iron, timber or deep colours. It's all about adding texture and layers to the room without overdoing things. Keeping lots of space around each element is paramount to the simple and casual look.
While casual style may not quite be the "unplanned" accident the dictionary dictates, the perfect combination of casual and chic styling will result in a bathroom that copes with modern demands with the relaxed charm of yesteryear.
Five must haves for casual decorating:
Interest: Some curious, unusual or whimsical element that entices a second look.

Texture: Stone, pressed metal, distressed timber, aged metal. Anything that counters the "glitzy" feel of many bathrooms.

Warmth: Just enough personal items to give life to what can otherwise be a cold room.

Neutrals: Subtle colours give a natural, time-honoured feel to the room.

Touch of luxury: A sumptuous element to stop the room toppling into "dowdy".