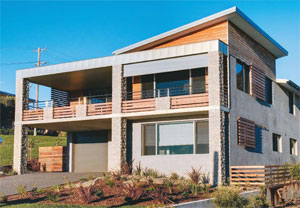 The brief for this renovation of a much-loved family home was to create a beach atmosphere that would sit well within the picturesque fishing village of Crowdy Head on the NSW mid-north coast.
Originally owned by the client's father, Charlie, the desire was to retain and recycle as much as possible of the original work and materials he had selected.
Built in the 1970s, the 'austerity'-style, twostorey, double-brick home provided a challenge to create a building that would be well conceived in its own right and not be compromised by the older structure.
The requirements were for a home large enough to accommodate family during holidays, as well as provide a cosy living environment for the mostly single occupant. There was also a desire to use best practice with regard to active and passive solar design features and environmentally sensitive building materials and methods.
The home's north-west orientation required best-practice shading solutions, achieved with a vertical roller screen to the north-west-facing window, and hardwood shutters to the southwest. Spacious living areas facing the beach are shaded by a deep balcony added to the front of the existing building.
Using the home's existing footprint required a design that would maximise natural lighting and make the entry to the first-floor living space a deliberate journey. From the front door a wide gallery/hallway leads to the stairs located in the middle of the building. The spacious staircase is lit by a clerestory window, creating a pleasing display of early morning and late afternoon light.
Internally, all doors are floor-to-ceiling in height to create a streamlined appearance and maximise airflow. The built-in joinery, kitchen and bathrooms are fully integrated in their design detail. An exposed aggregate, super-polished floor adds to the minimalist, beach holiday feel.
Strong emphasis was placed on the composition of materials to incorporate similar attributes, harmonise with each other and age gracefully. Pre-weathered zinc was chosen for fascias, barges, gutters and parapet for its long lifecycle and beautiful patina. The tallowwood and ironbark weatherboards will slowly age to driftwood silver grey. The granite for the columns was cut and hewn on site to create a dry stone effect and the use of coloured render, off-form and polished concrete finishes all add to a sense of timeless architecture.