With hints of colour and cleverly integrated design features, this kitchen is sure to turn heads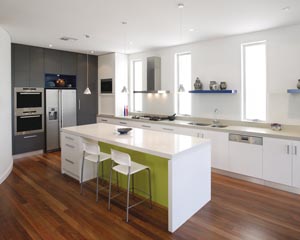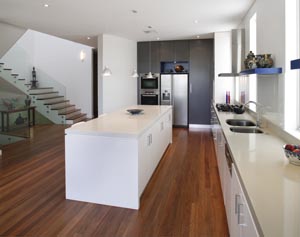 Kitchen designers love it when they have a blank canvas to work with. Unrestricted by existing benches and fittings, the design can be 100 per cent to specifications. Making good use of the space, this kitchen is striking in appearance and extremely functional for its happy owners.
Having room to work and a vast amount of usable space was a top requirement. The large island bench is a great area to grab a bite to eat, whip up a culinary surprise or even do a spot of work. The integrated drawers allow the island bench to double as a desk or workstation while keeping the kitchen space free of stationary clutter common in most abodes.
Contemporary features and sharp lines add depth and focus. The three vertical windows add a point of difference while allowing abundant natural light to flood the room. The refrigerator and oven, alongside the contrasting cabinetry, add a feature wall to the kitchen and offset the white cabinetry and island bench. Utilising a slightly darker colour on the main bench has grounded the kitchen and boosts the flowing lines and divergent feel. Adding a splash of colour on the island bench and shelving units gives character while enhancing the area's fun factor.
Fact file
DOORS Dulux Natural White Satin and Dulux Raku Satin
PANELS Dulux Natural White Satin, Dulux Raku Satin and Dulux Blue Expanse HANDLES Satin D-handle Benchtop CaesarStone in Osprey to the island and Seattle Sky to the rest
SPLASHBACK Stone upturned
include two Miele H4740 ovens, a Highland HP6SSN cooktop, a 900mm canopy, a Miele DA429/4 dishwasher, an LG GCL197NFS refrigerator and an Oliveri DU490U sink