There'll be no complaints about bath time thanks to this innovative design.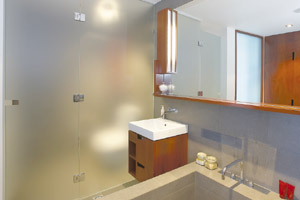 Family-friendly, with splashes of colour, this bathroom is every parent's delight. When there's young children underfoot it's more important than ever to ensure only the finest materials are used. This is where Euroglass Australia comes in.
Euroglass Australia introduced its toughened frameless safety glass shower screens and doors to the Queensland market back in 1989. Since then they've continuously strived to keep ahead of market trends so they can offer an ever-increasing range of innovative frameless safety glass concepts. If you're after glass that's not only durable but also simple, clean and stylish there really is no better choice. The owners of this bathroom are comfortable knowing that Hutchinson Builders have hand-selected the very best product on the market.
Easily one of the most stunning features in this bathroom, the frameless glass shower is complemented by the muted tones of the solid jarrah timber vanity and door.
As an extension of the main bedroom it was extremely important that the bathroom was more than a "wet room" and was a comfortable space where the owners could happily bathe their children without worrying about breakages. By featuring Euroglass throughout the bathroom the space is incredibly stylish yet so functional and user-friendly that the kids want to play in the bath all day!
BASIN Rogerseller Zero wall-hung wash basin
SHOWER 500mm high masonry walls, Rogerseller zen square shower Rose 200mm 329754 and Vola 473 081 one-handle built-in mixer
TOILET Rogerseller Zero Vaso Monobloc Pan White 213081
VANITY Jarrah solid timber
TAPS Vola wall-mounted spout and mixer
TILING Rocks On tiles in Sydney on walls, Buxy tiles in Cendre Natural on floors, Sadlerstone feature tiles in Coal and Bisazza and Bisazza Smokey Great tiles in bath
LIGHTS LAD 757 multi-directional downlight
HEATING Underfloor