This sophisticated bathroom successfully combines "new age" frameless glass with classic design principles.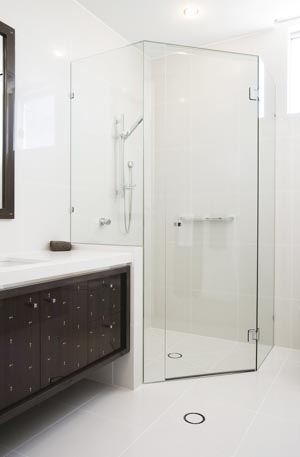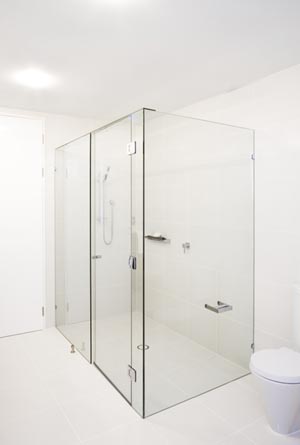 Built in a new home and designed to meet the individual needs of the owners, the bathroom has a modern feel while still retaining a timeless quality.
The selection and placement of tiles was imperative in the creation of this clean look. The designer was careful not to use any decorative or feature tiles and instead opted for understated neutral tiles.
With the bathroom's clean, simple design and lack of attention-grabbing finishes, the spectacular glass shower screens from Euroglass are easily the room's standout feature. The sparkling screens give the illusion of spaciousness and the shower's seamless design creates a free-flowing feeling.
Quality is key to this project's success. The handmade inlaid joinery with hi-gloss two-pack finish and the durable CaesarStone benchtops, along with the stunning floor-to-ceiling wall tiles, all make this bathroom a luxurious haven for everyone who uses it.
Undoubtedly the icing on the cake, however, is the top-of-the-range shower screens from Euroglass. Giving the space an air of sophistication, they add that extra-special touch to the bathroom's flawless design.
BASIN Caroma Liano 430 under counter
SHOWER Frameless Euroglass
TOILET SUITE Parisi Kono wall face
TOILET SEAT Parisi Kono
DOORS Inlaid grain-filled veneer timber
TOP CaesarStone in Snow
TAPS Novelli Diablo fix basin mixer
ACCESSORIES Shower Shelf — CUBO, Towel Rail Dorf, MOFIT 700 Single rail
WALL TILING 533mm s 533mm fully vitrified tile
MIRROR Mirror surround in grain-filled veneer vanity
LIGHTS Diffused downlights and custom starlight over vanity