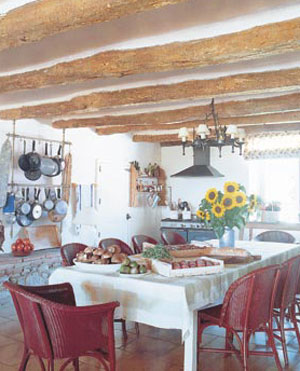 There are a lot of decorating books out there on the market, even a generous dose of "country" decorating books, but one took the attention of our editor Donna Macpherson and inspired her to chat with the author.
The book is Classic Country by Kathryn M Ireland. When Donna sat down to review the book for Australian Country Collections, she decided this was a book and decorating philosophy that she needed to share with readers. A few phone calls later she was chatting to author, decorating guru and fabric designer Kathryn M Ireland.
Kathryn confesses to a love of interior design but says she has had a passion for fabric design since her school days. Of all the styles of decorating, country style resonates with Kathryn who says she just loves the relaxed feel of country.
"Country is great because it's laid-back and easy. It accommodates wellington boots, feet on the sofa, dogs and kids. It says 'be real', where as a city or urban look speaks a different language altogether," Kathryn explains.
Kathryn likes to start all her decorating projects, whether for her own home or a client, with great fabrics. An obvious choice for a textile designer but also a great starting point for amateur decorators, she says.
By choosing three lead fabrics for a room, Kathryn explains, you will have great bones to start with. A stripe, a check and a pattern always work together and they give plenty of interest to a room. The three choices should relate by colour and you can always add in other weaves, solids and neutrals. The examples in Kathryn's book are not only dramatic and eye-catching but also achievable for most homes.
Once you have your textile base, Kathryn says her next hot tip is to choose a "grounding antique" for the room — a piece that is large enough to have presence but not so large as to overwhelm the room.
Blending bright and muted colours is another of Kathryn's favourite tips. By playing with colour, pattern and design in an orchestration of your own choosing, she says your decorating can truly reflect who you are and how you live.
Another of her key tips is to mix high and low pieces to create drama in a room. "I love to juxtapose a tall armoire with a low coffee table; large mirrors with small oil paintings to give variation and interest to a room."
Many of the homes featured in Classic Country are full of character or true country homes but Kathryn says it's easy to achieve country style in the city or in quite modern housing. "You can create a country feel in any setting just through textures, textiles and furniture. Country is a frame of mind and a state of being, not merely a geographic location. Sure old brick or stone walls can make the task easier but the look is really about an eclectic mix of items, no matter where you live," Kathryn says.
The sceptics out there may be thinking that it's easy to get a great look when you can throw plenty of cash at a project but Kathryn says working on a budget can often unearth some of the best treasures. By recycling and visiting garage sales and markets, you can sometimes find the best time-worn pieces really cheaply. You also end up with one-of-a-kind items rather than mass-produced store-bought pieces.
In leafing through Kathryn's book it is obvious that the rooms she creates are incredibly unpretentious while being immensely covetable and desirable. Donna asked her how she recommends we achieve that in our own homes.
"Be true to yourself and go for 'simple'. Avoid too complicated and contrived. It's a balancing act. I recommend you err on the side of constraint; it is easy to overdo it. Better to underdo it in the first instance. You can always continue with the layering; after all most rooms tend to continue to change and evolve over time," Kathryn explains.
"I also think it is important that you remember the true purpose of a room. If it's a library, don't put a television in it. Also, make sure your room is really useful. Make sure there are enough seats in your living room and enough storage in your kitchen. And unless you are extremely confident, avoid anything too modern. One contemporary piece as an accent in a country room is fine but you can very easily tip the scale and lose the country mood if you include too many fashionable pieces," Kathryn adds.
"Country is great because it's laid-back and easy. It accommodates wellington boots, feet on the sofa, dogs and kids. It says 'be real', where as a city or urban look speaks a different language altogether," Kathryn explains.
Once you get your hands on Classic Country you'll want to source Kathryn's gorgeous fabrics. She is hoping to launch her fabrics on the Australian market soon and we promise to keep you posted.
As for more books, she is currently working on her next one, which will concentrate on renovating and the design process. It's all about country textures, tiles, iron and of course more fabulous textiles. Hopefully, we will get the chance to chat to Kathryn again for more tips on achieving a classic country look the Ireland way.