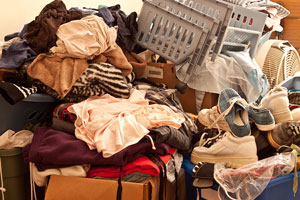 If you're renovating your home, extra storage space is probably top of your list of priorities. But sometimes it's not just a case of stuffing it all in and forgetting about it …

It's all very well buying pretty boxes, jars and shelves to hide away all your bits and pieces, but sometimes you need to do the dreaded task of "de-cluttering".
Some people love streamlining their belongings and getting rid of what they don't use or need but for others, parting with possessions is a lot more difficult.
So where should you start?
Lisanne Oliver runs SORTED!, a professional organising company with branches in Melbourne, Sydney and Brisbane. In her experience, the best place to begin is with an area you haven't used for a while — maybe that cupboard under the stairs not explored for months or even years.
"There's a bit of distance in terms of time and it's a lot easier to let go of," she says. "Make a judgment about what you want the space to look like before you start and how much time you're going to spend. You don't want to end up stuffing it all back in again!"
So do you really need to keep that dress you haven't fitted into since 1972, or those French language tapes you listened to once and don't intend to use again? Be brutal! According to Lisanne, if you don't love it, want it or need it, it's clutter and it's time to say goodbye!
She says, "Cleaning the clutter makes way for the good stuff — the stuff you really need — and you're also not going to waste time looking for things you know that you've got."
Top tips: how to de-clutter your home
1. Hire a professional. The Association of Professional Organisers lists some at www.aapo.org.au.
2. Pass it on. If you have items you don't need but think other people might want, look up your local Freecycle group on the internet. You can post items you don't need but that somebody else might want and no cash is exchanged.
3. Complete or delete. Finish projects, tasks and repairs. If it's important to you, do it or let it go.
4. Purge your stuff. Love it, want it, but don't use it or don't have room for it? Loan items to friends or family who might be able to use it but you technically still own it. Draw up an agreement if it's of sentimental or monetary value.
5. Use containers. A container is a boundary. Boundaries set limits. Choose storage that sets boundaries on the quantity of things you own. Aim never to fill your storage to 100 per cent — there's no room for the future if you do.
6. Don't collect it in the first place! Be ruthless about collecting stuff. If you're shopping, don't make a purchase unless you're passionate about it. Aim to have things in your life for a long time, if not a lifetime.
7. Make time to maintain. Schedule time for maintenance: filing bills, clearing out drawers, sorting out the crockery or pantry. Even five minutes a day sorting the cutlery drawer while the kettle boils will make your space clutter-free and more organised.
(With thanks to SORTED!)
These prayer boxes originally held the belongings of Tibetan monks. Use yours to store paperwork such as bills and receipts. From Eastern Elements.
The elegant Sofia by Emmemobili from FY2K (designed by Bruno Nideck and Francesco Biacca) will show off candles and photographs to perfection.
This cabinet by Montana can be made according to your specifications, so you can have exactly the amount of drawers and shelving you need. From Interstudio.
This leather trunk is ideal for storing spare bedding or jumpers and would look great at the bottom of your bed or in a corner of your bedroom. It could even double as a window seat. It's available from Décor Detail.
Everybody puts their junk under the bed, but you can make sure it's properly stored with this Box Bed from Italian design icon Zanotta.
The ultimate bedroom storage device. This bed folds into the wall, where it is disguised as a dresser. It's ideal for smaller luxury homes or apartments — perhaps for a guestroom that doubles as an office. By Parker & Morgan.
If you don't have a dedicated wine cellar, this Vintec 190 SG E from Transtherm Australia can function as either a single-temperature zone or as a multi-temperature cabinet for storing reds, whites and champagne, so they're always ready for an impromptu party.
Keep your ensuite happy with these cute cotton-bid holders dubbed Pisellino by Stefano Giovannoni for Alessi.
Your coats also need somewhere stylish to live! This beautiful hook design, named Basil, is impossible to resist. It's by award-winning young Sydney designer Lana Alsamir.
Pasta, lollies, rice — these coloured jars will jazz up any food. They're designed by Pentagon for Iittala from Top 3 by design.
The Bookworm, by Ron Arad for Kartell, is a fun way to shelve books and CDs. Available at Top 3 by design.
Planex makes steel office storage systems including these, titled Fatfile, designed by Paul Morris.
Studiomo by Interlübke at Siekaup Furniture has a sleek space for everything.
Interstudio's Montana Wire Cube by Verner Panton & Peter Lassen is a great show-off storage piece for a modern home and is based on the Wire Cube, Panton's design from 1970.
You can't get much more organised than this! The office storage system unit by XimulA.com will keep everything in its rightful place.
SHOPPING DETAILS
Alessi
www.alessi.com
Eastern Elements
02 9319 2841
www.easternelements.com.au
FY2K
02 9281 1771
www.fy2k.com.au
Lana Alsamir
02 9332 2390
Interstudio
02 9360 9377
www.interstudio.com.au
Parker & Morgan
02 9356 8200
www.parkerandmorgan.com
Planex
03 8795 1100
www.planex.com.au; www.fatfile.com.au
Siekaup Furniture
02 9906 5472
www.siekaup.com.au
SORTED!
1300 767 813
www.sorted.net.au
Transtherm Australia
02 9360 3199
Top 3 by design
02 9906 4433
www.top3.com.au
Zanotta
Available at Space Furniture
02 8339 7588
www.spacefurniture.com.au
XimulA.com
03 9329 3542
www.ximula.com