With a nod to 20th-century modernism, this exciting home from Castlepeake is all about the big picture.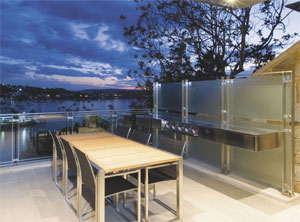 Paying homage to the purposeful architectural structures of 20th-century modernism, this bracing house, from Castlepeake's architects Peter Tout, Brien Kwong and Raymond Panetta, embodies the philosophy and sensibilities of the movement without imitating or attempting to replicate it.
The client, who was living in Hong Kong throughout the design and build process, had a very clear but opened-minded idea of the effect they were trying to achieve and viewed the project's elements — architecture, interiors and landscapes — as a whole.
In keeping with the principles of traditional modernist architecture, the waterfront home, with private access to the beach, is an analytical response to its location and the needs of its inhabitants. The large, open spaces are practical and functional, simple and austere yet there is vibrancy to the home, which brings it to life and gives an air of excitement and vigour.
Throughout the property, a raw and eclectic mix of materials adds character and personality without overpowering it. The natural stone detailing, stone fireplace and timber joinery add a strong organic element while the fabric wall panelling, rugs and muted tones of warm but robust colours infuse the home with controlled energy. Natural light has been harnessed and well used, and the modern and stylish furniture is functional; included for its practicality, not for decoration
"The design elements are minimalist and contemporary yet timeless, avoiding up-tothe- minute fashions, which date quickly," says Kwong. "The finishes are not fussy or overdecorated. The architecture and landscapes are functional and durable, requiring minimal maintenance. Technology is incorporated sympathetically without ugly gadgets everywhere. Stylish but casual and practical finishes ensure the whole house is usable every day, as well as being welcoming and warm. The overall effect is fun and funky — the sort of house James Bond would live in."
Castlepeake
121 Alexander Street, Crows Nest NSW 2065 
Tel: 02 9437 1800 
Fax: 02 9437 1044 
Mobile: 0417 655 235 
Email: bkwong@castlepeake.com.au
Architects: Castlepeake Architects: Peter Tout, Brien Kwong, Raymond Panetta
Interior Designer: Thos Hamel Pty Ltd
Landscape Architect: Matt Frawley, Castlepeake Landscapes
Builder: Castlepeake