If you're struggling for storage it's time to look upwards for some extra space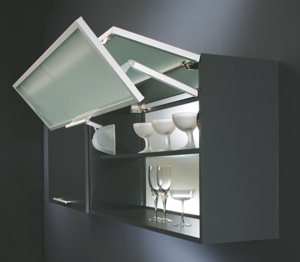 Even if you already have cupboards reaching the furthest heights of your kitchen, it's a safe bet their contents haven't seen the light of day for a very long time due to awkward, hard-to-reach handles.
An easy-to-use, smooth-operating and functional system is exactly what you need and Häfele brings all these elements together in the Huwil cupboard system.
Cupboards become accessible through one of three systems, starting with the Senso Bi-folding Lift Up fitting. Once-static doors are replaced with door flaps that fold in two when opened and can be adjusted to suit your individual cupboard height. The doors also slide closed with ease and in utter silence with the Huwil soft-close mechanism.
Rather than grappling with larger doors, the second choice, the Verso Swing Up flap fitting, gives the opportunity to make the space accessible and easy to open and close. Each door stops in the desired position without an ounce of effort.
The people at Häfele are always thinking of aesthetics and even if the cabinet incorporated cornices or mouldings, the door will swing up and over without the need to compromise on style.
The Strato Parallel Lift Up front fitting rounds out the selection and has been specially designed for single fronts and lifts parallel to the cabinet — this makes it especially easy to gain access to cabinets that have even more storage above them as this application is particularly suited to concealing bulky items such as microwaves.
If you want to bring an even smarter element into the space, you can choose to have either or all of the three Huwil systems fitted with the electronic fitting converting each system from easy to absolutely no effort required.
The E-Senso, E-Verso and E-Strato systems incorporate a programmable push-button that allows the user to set the stopping point of the door to access their desired objects. To ensure your streamlined look is maintained, the button can be placed on the bottom of the cabinet. Commercial or busy home kitchens also benefit with the button able to be programmed to open several doors at the same time if desired.
The Huwil fittings are available in modern silver-grey and are suitable for both aluminium and timber applications from 350 to 900mm wide.
Häfele invites you to make the most of your space and experience a whole new way of accessing storage. There's no need to struggle any more, with the simple touch of a button or flick of a door to access all of those items that you love to use but too often can't get access to. It's time to stop reaching and start enjoying your kitchen.