Cabana, pool and gardens; this project provides everything the family wanted.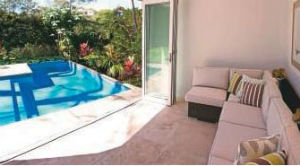 A Total Concept, a company specialising in landscape architecture and swimming pool design, can lend its expertise to any project anywhere in Australia, providing clients with "a total concept" design solution. On this Sydney beachside property, A Total Concept has created the complete package; a stylish, timber-clad cabana where the owners can relax and socialise, and a plunge pool set within a landscape comprised of lawn and tropical gardens.
"The cabana has been designed with simple, clean lines and large, full-width concertinaed doors that totally integrate it with the adjacent plunge pool," explains landscape architect John Storch, founder of A Total Concept. "As the owners have young children, the cabana provides the perfect place to entertain and enjoy some shade while supervising children as they play in the pool.
"The cabana has a waterproof membrane to all walls, floor and ceiling, so wet feet and water fights are fine and won't damage surfaces," adds John. "Also, it incorporates a bar and kitchenette, incorporated within built-in cabinetry, plus a generous all-weather lounge setting."
As their children grow, the owners intend to use the cabana for different purposes; as a rumpus room with stereo system for the children to entertain their friends and, when they become teenagers, possibly as the bedroom for the eldest.
At night, the outdoor room is well lit with both lamps and functional halogen lighting in the ceiling. Combined with the energy-efficient LED lighting throughout the garden areas, the overall effect is one where washes of light and shadows dance across the pool water.
The beautiful plunge pool, with its shimmering, vibrant, blue-coloured water, not only reflects the cabana lights at night but the sky and clouds during the day. It also sits as an elegant contrast to the blond travertine cabana flooring, travertine poolside paving and large lawn area.
The pool steps and underwater bench double as informal seats within the plunge pool, and with heated spa jets incorporated into the backrest, this is a warm and inviting place for parents to chat. The underwater bench also acts as a safe haven for children within the pool.
"The northerly aspect of the property provides sun all day and shelter from the strong southerly storms so allowed the creation of amazing tropical gardens," says John. "The plantings scheme includes flourishing giant bird of paradise, Kentia palms, red and bronze cordylines, frangipanis and philodendrons."
This project, designed and managed by Total Concept, integrates the cabana, plunge pool, lawn and tropical gardens into a seamless landscape that provides a "holiday at home" ambience that ideal for family fun, entertaining or for escaping from the stresses of work at the end of the day.
Project details
Landscape design and project management by A Total Concept.
For more information visit www.atotalconcept.com.au