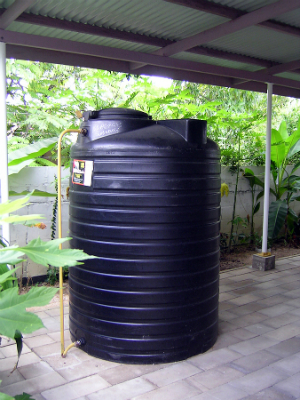 Smart Approved WaterMark, Australia's water conservation labelling scheme, has launched a campaign — Every Bucket Counts — aimed at saving one million buckets of water, hopefully more.
To participate, go to their website at www.smartwatermark.org where you will find three online calculators that show how you how much water you can save with some simple measures. The three 'Every Bucket Counts' calculators are:
• Car washing: The size of your car (small, medium or large), how often and how it is washed are among the kinds of information keyed in for this calculator, which then works out how much water you can save by using a low flow cleaner, or a waterless car wash.
• Rainwater tanks: This calculator takes into account postcodes and average rainfalls, as well as roof and tank sizes to calculate the amount of water collected for each individual enquiry. This water collected by the rainwater tank can then be used in garden, laundry or toilets, saving mains water for drinking.
• Swimming pool covers: The size of the pool and other simple facts such as the number of times it is used and topped up are keyed in and it calculates the number of litres of water saved from evaporation if a pool cover is used.
The calculators reveal how simple it is to make a difference so check them out today.
What's in a label?
More than 150 products and services now bear the Smart WaterMark label which lets you know that by choosing that product you are making a water-wise choice. Approved products and services include garden mulch, soil wetting agents, rainwater harvesting and greywater systems, and low-flow cleaners. For a full list, visit: www.smartwatermark.org. One of the most popular products is the Hughie Sink by Hughie Products, which was the overall winner in Smart Approved WaterMark's 2008 national awards. This moulded insert fits into an average sized sink so that you can collect water from activities such as washing your hands – or the vegetables — and use it for watering plants. The Hughie Sink is available from Bunnings stores Australia wide. For a complete list of stockists, visit: www.hughie.com.au
Grow it, don't throw it
The compost bin is where most food scraps go in the eco-friendly household but there is another option – and one the kids will love. In Don't Throw It, Grow It! 68 Windowsill Plants from Kitchen Scraps by Deborah Peterson (Storey Publishing, rrp $   ) shows you some fun, environmentally friendly ways to put vegetable and fruit scraps to an alternative use. 
You can plant the pits, roots, shoots and seeds of almonds, avocadoes, beans, celery, citrus, dates, fennel, figs, gingerroot, kiwi, mango, papaya, peanuts, persimmon, pineapple, pomegranate, sesame, turnip, tropical guava … just to name a few. From the common carrot to the exotic cherimoya, dozens of foods have pits, seeds, and roots waiting to be rescued from the compost bin and brought back to life on your windowsill. Whether it is the pomegranate seeds left over from breakfast or the forgotten piece of gingerroot in the fridge, there are many 'kitchen experiments' you can try. 
Carbon-neutral paving
Manufacturing paving is an energy guzzling, greenhouse gas-producing process but Anston Paving Stones is leading the way in the industry's quest to reduce its environmental impact by becoming the first paving company in Australia to receive carbon neutral certification by the Carbon Reduction Institute. 
A while back, Anston decided to become part of the of the NoCO2 certification program and engaged the Carbon Reduction Institute to undertake an audit of the greenhouse gas emissions produced from their operations. The audit found that Anston were responsible for just under 690 tonnes of CO2 in 2008 and the company is now moving to reduce their carbon emissions through measures such as increased energy efficiency and renewable energy options. To offset their unavoidable emissions, Anston purchased carbon credits, thus earning their carbon neutral certification. 
Anston Paving Stone products are hand-made from Australian sand and are available in 12 colours and more than 400 different sizes. For more information: www.anston.com.au