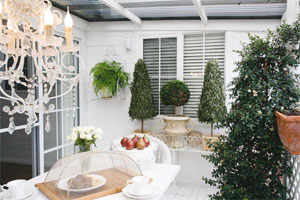 "Next to excellence is the appreciation of it." (William Makepeace Thackeray, author)
Very rarely do we truly appreciate what the humble verandah adds to our homes. Most homes have them in some form or another, and while some people sit out on them all the time, many of us do little more than walk across the verandah on the way into the house. As the first whispers of spring arrive, it's time to think about what your verandah can offer your home. If you're guilty of underappreciating your verandah, make this the year to learn to love it.
A functional verandah
 What makes a verandah a successful outdoor living space? Size and shape are the first things that come to mind, but these aren't always things you can do something about. If you are lucky enough to own a spacious verandah that can comfortably house an outdoor table and chairs and leave room for an outdoor sofa and somewhere for the kids or grandkids to push a car around, consider yourself spoilt and make the most of it.
 If your verandah area is lacking in the size and shape department, there are things you can do about it. First of all, it's important to plan your outdoor furniture placement carefully. There are many beautiful outdoor settings on the market, but if you're short on space then you need to consider the shape of your furniture carefully. For example, if your verandah is narrow, choose a long, narrow table that still provides access. For extra seating, place benches against the wall of the house. If your verandah is an awkward shape, find the optimum place for a table and chairs and use that area.
The other consideration is utilising your yard. The space immediately adjacent to your verandah is prime real estate. You may choose to pave it to accommodate additional outdoor living or you may want to put the barbecue in this area. Keep this space clear so the kids can play in this part of the yard while you sit on the verandah and supervise.
How to use your verandah
This may seem like a no-brainer, but many verandahs are not used to their best ability. For starters, remember that your verandah is the first glimpse of your home that visitors see. Keeping this in mind, decorate your verandah with a few special items that will give guests a hint to your personal style. If you love to garden, potted colour is an obvious choice, but you can extend the garden theme with a display of botanical prints, terracotta pots or a decorative watering can so everyone who visits knows you have a green thumb.
You'll find that by decorating your verandah a little, you make it a more appealing place for yourself, too. Make sure you have somewhere comfortable to sit so you can stop for a while and enjoy a cuppa in the sunshine. It's a lovely way to pass the time and relax because you feel closer to nature. Treat your verandah as an extra living space and sit out there to read, stitch, chat with your partner or visiting friends, or even check emails.
Also, make sure your verandah can accommodate alfresco dining. This doesn't need to be fancy or elaborate, and old farm table with a mismatched collection of timber chairs is just as appealing as an expensive setting. Make sure your outdoor dining table can, at the very least, accommodate your whole family and a couple of extras. If you can position your dining area close to both the kitchen and the barbecue, it's a bonus.
If you have young children or grandchildren, make a child-friendly area on the verandah. When we were young we were sent outside at every opportunity to give our mothers some peace and quiet but these days kids often resort to TV for entertainment. By giving them an area that is not plugged in, you create a space where they can paint, play a game or get active. If they'd rather have quiet time, they can bring out a tea party or a book to read. In any case, the verandah allows for easy clean up and gets them into the fresh air. Before you know it, they'll have migrated off the verandah and will be running around the yard.
If you're a keen gardener, make your verandah planning central for the garden. You may choose to have a small table with some storage for potting plants up or you might like to simply sit out there while you plan your garden. It's easier to see what needs doing and come up with workable solutions when you're outdoors with the garden.
This spring and summer, don't underestimate the ability of your verandah to add living space to your home.
5 steps to a more usable verandah
Start with a good clean. You are more likely to use your verandah if there are no unsightly spider webs or dusty corners.

Strip your verandah of unnecessary clutter.

Provide yourself with somewhere to sit, eat and drink so you have a reason to go out to the verandah.

Make it as user-friendly in all weather as possible by adding things such as an outdoor heater or pull-down blinds.

Give your verandah appeal by adding some layers of luxury such as cushions, a coffee table and potted plants.