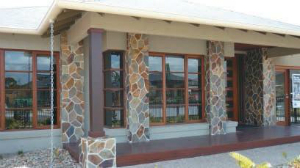 For a look that's timeless, choose natural stone paving and wall cladding products
For many, autumn is the perfect time of the year to spend time outside, taking advantage of the cooler evenings to entertain friends and family.
Modern landscape design can transform the humble backyard into a stylish and inviting living space fit for any occasion — or any time of year. Decorative stone work can be incorporated into almost any external living space, harmoniously working with other backyard surfaces and adding a touch of class and warmth to the environment.
DécoR Stone specialises in decorative stone products including crazy paving, stacked stone and the recently released Pietra honed stone tiles. One of DécoR Stone's most popular products, machine-cut crazy paving is offered in three colours: Onyx, Bisque and Sahara. It comes in an easy-to-install format, which comprises eight pieces held together by mesh backing. Machine cutting offers a more modern and uniform surface finish and looks at home within most external environments. The Onyx crazy paving range has a dark charcoal tone and looks very sophisticated.
Positioned behind a fountain or swimming pool or just as a feature wall, Onyx crazy paving works exceptionally well with contemporary housing and apartments. Sahara offers a more subtle beige tone while Russet crazy paving adds rustic charm with its mix of different tones and maintains a modern finish through the streamlined lines of the stone edges.
DécoR Stone offers a comprehensive range of stone wall cladding and paving products that have been incorporated into a number of well-recognised residential and commercial building and landscape projects over the years. With a variety of machine-cut crazy paving solutions and other decorative stone products supplied through the Australia-wide network of more than 300 resellers, now is the time to bring your outdoor space to life.
To see the company's wide range of products or find your nearest reseller, visit the DécoR Stone website.